Challenge:ELBA tackles the Digital Divide
Written by Ashley Rice, Challenge:ELBA Programme Manager
Jumping on a zoom team meeting, doing shopping online and FaceTime-ing loved ones has become second nature to most of us. During the pandemic, being online has become a necessity for us to live our lives, work and connect with others. This necessity has highlighted the digital divide issue where those without the skills, technology or connectivity to get on the internet are being left behind. Throughout the pandemic, the Challenge:ELBA team has been an integral part of the overall Digital Divide campaign.
After setting up a telephone befriending service for older people in April 2020, the Challenge:ELBA team expanded this so that volunteers could connect with older people on Zoom. Many older people don't have access to digital devices or internet connectivity. With generous donations from companies like RSA, the Challenge:ELBA team was able to distribute to organisations like St Luke's Over 50s and Hackney Caribbean Elders Organisation. After chatting to volunteers on her first Zoom call, Brenda from St Luke's said:
"Thank you so much for chatting to us on Zoom today. We absolutely loved it and are raring to do more!"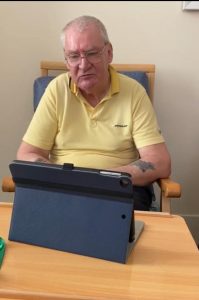 More recently, the Challenge:ELBA team has been working with Age UK to pair volunteers with older people to teach them basic IT skills. The Digital Buddies project has been incredibly popular with volunteers with nearly 40 people signing up to embark on the long term relationship. Over the course of 6 months, the volunteers will teach their buddy how to complete an online shop, how to video call people, how to send an email and other tasks. The devices that the older people use have been donated by Age UK along with a mobile router preloaded with data to provide connectivity.
Another demographic impacted by the digital divide is young people. This January, with schools closed, children were expected to access their education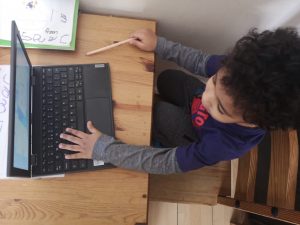 online. For low income families this created many problems as many did not have access to a device. There were many stories of siblings and parents sharing a device or only having access to a mobile phone to take part in online classes. Using its network of community organisations and charities from the Toy Appeal, the Challenge:ELBA team has distributed 180 laptops and tablets to young people in east London and Islington. After receiving a laptop, one parent said:
"We would just like to express our gratitude to you all for the laptop. This has made homeschooling my 4 year old so much easier as we are able to easily access resources and zoom sessions without trying to do it on my phone. Since using the laptop my child has developed a better sense of looking after 'his' computer and ensuring it's charged. He has now been exposed to a new type of technology which I can only hope will help him grow and develop further."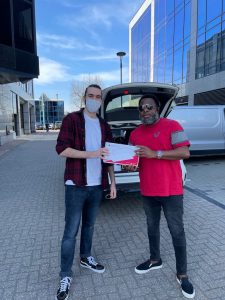 In March, the Challenge:ELBA team partnered with the Raspberry Pi foundation who donated 135 computers as part of their Stay Connected to School programme. The personal computers come with everything needed to complete schoolwork including a headset and webcam. One recipient organisation said:
"These computers will go a long way in helping local people gain access to the online world, catch up on schoolwork and connect with others."
With the schools returning and lockdown easing, it's easy for us to forget the digital divide issue, however, it is still as important as ever. Children will need to access catch-up learning online and lots of homework is expected to be completed on a computer. Older people still need to learn IT skills so they can reap the benefits of the online world. We're fundraising to provide more devices and connectivity to these groups. You can donate directly to the campaign on Just Giving here.