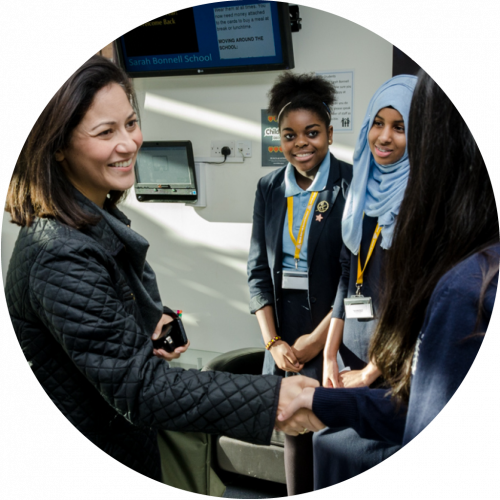 ELBA's Schools & Colleges Programme works to connect local students to volunteers from across the City and Canary Wharf to develop their business awareness and raise their aspirations
T
he Schools & Colleges Programme builds connections between school and college students and business volunteers. These connections develop students' business awareness and aspirations, as well as the essential skills required by employers. We have a reputation for delivery of meaningful, high quality employer encounters for students, which are in line with the Gatsby Benchmarks 5 & 6.
The interventions include workshops at companies:
Career Insight Visits at companies
Leadership Skills Workshops
Mock Interview Workshops
Personal Finance Workshops
Employability Skills Workshops
And bringing volunteers from the world of work into schools:
Inspirational Speakers
Careers Junctions
Enterprise Days
ELBA's Schools & Colleges programme has adopted the national Skills Builder Universal Framework, developed to show how to build essential skills at every stage of life. Participants will explore the Skills Builder skills and some additional competencies throughout sessions. These include: Listening, Speaking, Problem Solving, Creativity, Staying Positive, Aiming High, Leadership, Teamwork, Business Awareness and Confidence:

Even during the COVID pandemic, business volunteers were able to carry on supporting students in schools, colleges and universities. Our programmes will continue to consist of a blend of online and face-to-face activities.
Please see below for more information.
If your school or company is interested in our Schools & Colleges programme, please email Rachel Bell on:
rachel.bell@elba-1.org.uk.
A Career Insight Visit gives students an insight into the corporate world. Students are given the opportunity to visit a company in the City or Canary Wharf and learn more about the different career roles in a corporate environment. In 2018/, 78% of students agreed that the Career Insight Visit improved their business awareness, and 93% agreed the session better equipped them to work in different ways, be flexible, and find creative solutions to problems. 86% felt the session improved their confidence. (580 students survey)
This workshop supports students to develop a better understanding of leadership styles, as volunteers and students work through interactive activities which increase their leadership skills. In 2018/2019, 95% of students agreed that they felt more confident contributing their own opinions to the overall discussions and 88% agreed the session encouraged them to consider other careers, opportunities and pathways. 100% also agreed they enjoyed the workshop. (81 students surveyed)
Mock interview workshops seek to allow students to apply their spoken communication skills in order to practice answering interview questions with volunteers. Students will also take part in a mock assessment centre activity that simulates that normally found in the recruitment processes of many companies In 2018/2019 100% students agreed they felt better equipped to prepare for interviews, 100% felt more aware of their strengths and weaknesses and 75% felt more confident in self management. (216 surveyed)
This newly revamped workshop seeks to provide students with an overview of the personal finance and equip students with the skills needed to be successful in their future careers. Students will learn about how to create their own budget, reflect on their own perceptions of money and how to save money. They will also learn about financial products and terms through this interactive workshop, supported by volunteers.
These skills workshops are designed to develop the employability competencies of the students, seeking to raise their awareness of employability competencies, and how to showcase them to employers. 92% of students agreed the session improved their understanding of how business works, 89% agreed they felt more confident contributing ideas and opinions in group discussions and 100% of students agreed they enjoyed working with others. (81 students surveyed)
The Young Influencers Programme
The Young Influencers Programme is Societe Generale's new employability programme, designed to increase employment opportunities for under-represented groups in the Financial Services sector. The Young Influencers Programme is aimed at 16 – 17-year olds in schools and colleges in east London who have the ability and potential to pursue Higher Education, but perhaps lack the confidence, opportunity or aspiration to get there.
Speakers from the world of work share their career journey, insights into the world of work and lessons learnt during a school assembly or lunch hour.
A Careers Junction is a half day event hosted at the school. Volunteers from a range of industries are placed in a classroom each and share their career story with the students, as well as a short industry themed activity. Students are taken on a carousel around the classrooms so they visit each classroom. In 2017/2018, 97% of students agreed that the Career Insight Visit improved their business awareness, and 90% agreed they had developed their self-awareness, 96% felt better informed of the careers and pathways open to them (179 students surveyed).
This school hosted workshop typically takes place with volunteers working with a year group of students, supporting them to work through a series of fun and fast paced challenges around building a business and pitching for investment. In 2018/2019, 91% of students felt the session had improved their understanding of how a business works. 100% volunteers enjoyed taking part in the session and 95% felt the session had helped them develop additional skills or expertise. (650 students and 45 volunteers surveyed).