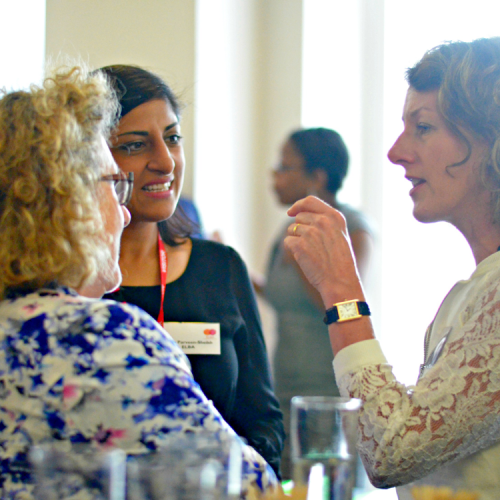 Each year ELBA works with 70+ corporate partners, placing over 12,000 employee volunteers in the community, supporting over 300 organisations. Be a part of powerful change in east London; join us.
E
LBA offers comprehensive, value for money opportunities, supporting all your community investment needs for east London. Whether your primary interest is in our strategic work or in the many Corporate Community Investment initiatives available, we have the resources, experience and expertise as well as a comprehensive range of programmes on offer.
The benefits of becoming an ELBA supporter:
Dedicated account manager, monthly newsletter and list of top volunteering opportunities.
Trustees, Chairs and senior governance placements.
Business skills volunteer service with individual introductions – marketing, IT, Finance, etc.
Team challenge opportunities.
Jobs brokerage service for entry level positions.
Due diligence on all community organisations.
Local east London inside knowledge.
Improve your procurement and supply chains by tapping into the value for money and innovation of east London's small and medium sized companies.
We work with:
Testimonials
"As a long-standing supporter of ELBA, London City Airport has been keen to engage with ELBA to deliver our shared vision for local recruitment. The Airport employs 70% of its 2000 staff from the East London Boroughs and working in partnership with ELBA and the Local Authorities, we aim to increase this further. Local employees should benefit from living close to many international businesses and London City Airport is proud to work closely with the ELBA Employment Team and Newham Workplace to deliver the Take off into Work training programme for unemployed Newham residents."

Director, London City Airport

"We need to ensure that the Olympic and Paralympic Games work for our communities in East London. It is true that we do need more jobs, but we also need people to be capable of filling them. ELBA's London Legacy 2020 initiative will help increase the skill sets of the young people of Newham, present them with greater career opportunities and also inspire and encourage them to pursue these opportunities."

Mayor of Newham

"Through ELBA, we recently invited a client to join us on a volunteering activity, to great effect. Not only did we all emerge feeling rewarded having used our skills and experience to help develop others, but working together in such a different environment also improved our understanding of each other and strengthened our relationship."

Senior Manager at KPMG

"ELBA has enabled us to connect in a more sustainable way to the local community in Tower Hamlets and their support has enabled us to really have a lasting effect on the community there."

Corporate Responsibility Manager, Catlin

"ELBA helps to deliver our volunteer programmes across East London. The team at ELBA ensure our involvement in local community organisations is channelled in a way which targets a local need, whilst delivering effective and skills-based initiatives to support our employees to give back in a way which helps employees feel positive about their contributions. We have recently extended our support to fund additional ELBA initiatives, specifically in the Boundary estate to focus our involvement on a geographically defined area."

Head of Community Engagement, EMEA, Corporate Responsibility, Bank of America Merrill Lynch

"The BIG Alliance employment team has played an integral role in Macquarie's successful support of the London Borough of Islington. Working across our business, the employment team have identified areas where Macquarie and its suppliers can offer employment and employability opportunities to local groups and individuals, connecting with the Islington community in a simple and effective way."

Head of Business Services EMEA, Macquarie Group

"We recently recruited a candidate for a junior human resources role through ELBA's recruitment service. We were looking for a candidate who was hard working, enthusiastic and also a team player. The candidate ELBA provided us with exceeded our expectations. She was a pleasure to have in the team and always had a smile on her face!"

Head of Business Services EMEA, Macquarie Group

"We look for individuals that are passionate about customer service and can demonstrate and understand our values. In addition, a proven background and excellent personal presentation for client facing roles is essential. If candidates can show that they really have researched and want to work for our organisation there is a fantastic career path waiting for them."

ISS, Recruitment Manager

"We were delighted at CMS to host a workshop introducing an enthusiastic cohort of Year 8 students from Lister Community School to the world of a law firm. The challenge was to engage the students and get them thinking about how the law impacts their lives. We prepared a schedule for the students that would allow them to interview some of our employees and prepare presentations on a variety of legal topics that have been in the public eye in recent times. The students responded excellently and it was pleasing to see their confidence grow as the workshop went on. My thanks go to ELBA's Business Action Group programme for organising the workshop and linking us together with a school from Newham, one of the key boroughs we target our volunteering programmes at."

CMS Cameron McKenna LLP (former EaGLE)

"Thank you for a very enjoyable day spent with volunteers, ELBA team, and the staff and students at Rokeby School. I thought the content of the day and my fellow presenter was excellent. ELBA's contribution to each session was also excellent and underlined key attributes and competencies that we, as employers, would be seeking from the students and to which we referred in our own presentations. I'd like to say a huge thanks to the school for the hospitality they provided. I was delighted to find three students keen to stay on after school hours to listen to a re-run of my presentation, which their schedule had not otherwise enabled them to attend.   They asked some very good questions and added greatly to my enjoyment of the whole day."

Technical Director, Tunnelling and Earth Engineering, CH2M

My mentees are an inspiration and one of the best parts of my job – their drive, honesty, sense of humour and willingness to confidently ask 'why' has created what feels like a positive, constructive and productive environment within our mentoring relationship.

Linklaters