XL Catlin Go XXL For Global Day Of Giving
On Friday 8th June, the XL Catlin offices were unusually quiet. Starting in Australia and finishing on the West Coast of the USA, this was XL Catlin's Global Day of Giving. All offices participate with employees across the globe donating their time and skills to their local communities. Here in east London, volunteers took part in a variety of Team Challenges and supported a range of charities and community organisations.
Over in Barking, the first team of volunteers kicked off the day at Hope Family Trust with a presentation about the foodbank and its importance in the local community. The team leader spoke about the insight they gained:
"The main gain for the group is understanding the value of foodbanks and that a little shopping can go a long way. The majority of people attending have never been into a foodbank and wouldn't know where their nearest one was."
The volunteers then went to the shop and did a 'supermarket sweep' for essential items for the foodbank. This ensures that Hope Family Trust can continue supporting local people in crisis by providing nutritionally balanced emergency food.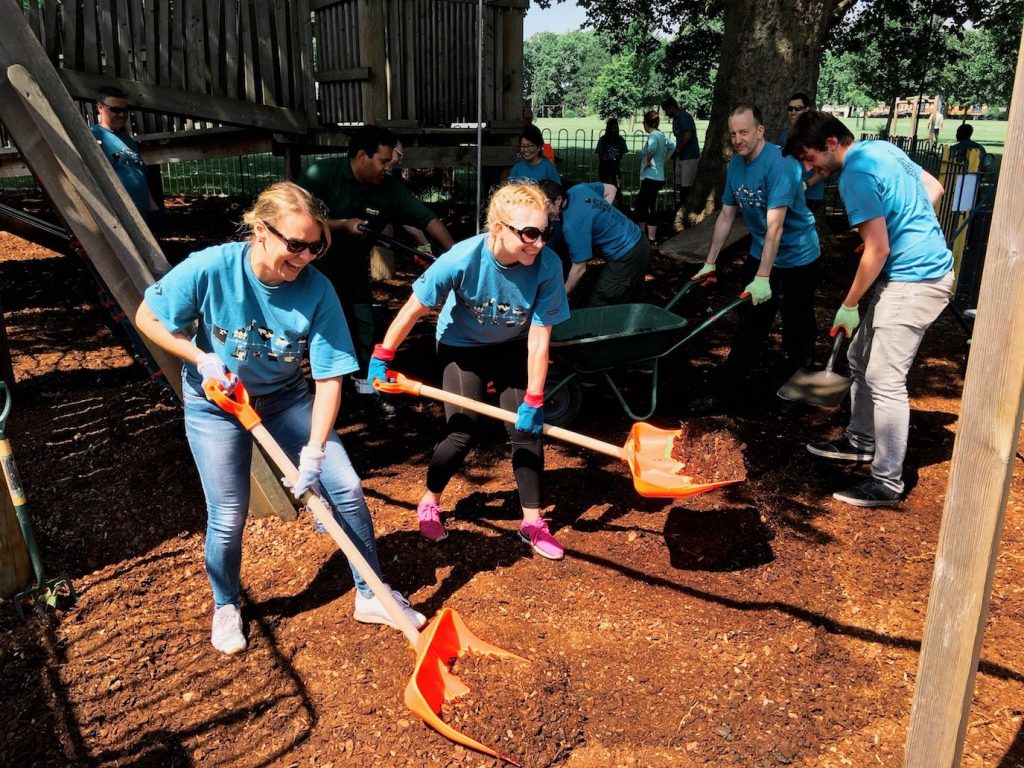 On Hackney Downs, a large team of volunteers made short work of big project. The bark in the playground needed replacing so the team were removing the old bark and using this to mulch hedges, plants and trees. Mulching helps soil retain moisture in summer, prevents weeds from growing and protects the roots of plants in winter. Fresh bark was then wheeled into the playground which will keep it safe for the children that use the park. Large projects like this could not be completed without the manpower that volunteers bring.
At Providence Row, volunteers prepared a delicious three course meal for people who have been affected by homelessness. Despite a few initial nerves about their cooking skills, the team worked hard and ran a successful lunch service. The volunteers also came away with an understanding of the issues the charity is trying to tackle:
"Providence Row were open to any questions we had on the charity or homelessness in general, and I think we all walked away with a much better sense of the problems homeless people face and the valuable work that is done at Providence Row."
This is just a snapshot of the many activities going on during the Global Day of Giving. Overall, there were 7 Team Challenges happening on the day which also included upcycling furniture with One Love Community and environmental work at Tower Hamlets Cemetery Park. Over 200 XL Catlin volunteers took part in Team Challenges which formed a part of the global initiative. In east London, their work will make a positive impact for the local community, whether it be providing food for the hungry and homeless, maintaining community places and spaces or supporting the environment.