UEL Diversity and Talent Hackathon brings students and Microsoft volunteers together
In April, the University of East London hosted a Diversity and Talent Hackathon; an interactive and fast paced day of icebreakers and activities with the aim of bringing employers, community staff and UEL students and staff together to address the question on "How can we build a stronger and more diverse talent pool in east London?"
Hosted by Advanced Business Park (ABP), the developer of the Royal Albert Dock project, means the location itself was significant taking place at The Altitude Building, one of the many buildings that will feature as part of an expansion project at the Royal Albert Dock. Situated near the University of East London's Dockland campus and London's City Airport, the area that will see over 20 buildings being transformed into office spaces and projected to create over 30,000 jobs with the majority being filled by local residents.
The event focused on three key themes of inspiring careers, employment readiness and careers passport (a student's log of careers activities).
Taking into consideration the challenges facing East London, using personal and professional experiences and best practice from a range of employers, the aim was to pitch viable short term solutions that UEL could look to develop and implement going forward.
The event was also hosted in partnership with Microsoft and included a number of presentations from Microsoft employees on the growing influence of Artificial Intelligence (AI) in the world of work, the inevitable impact this will have on the changing face of jobs and the need for proficiency in technical skills.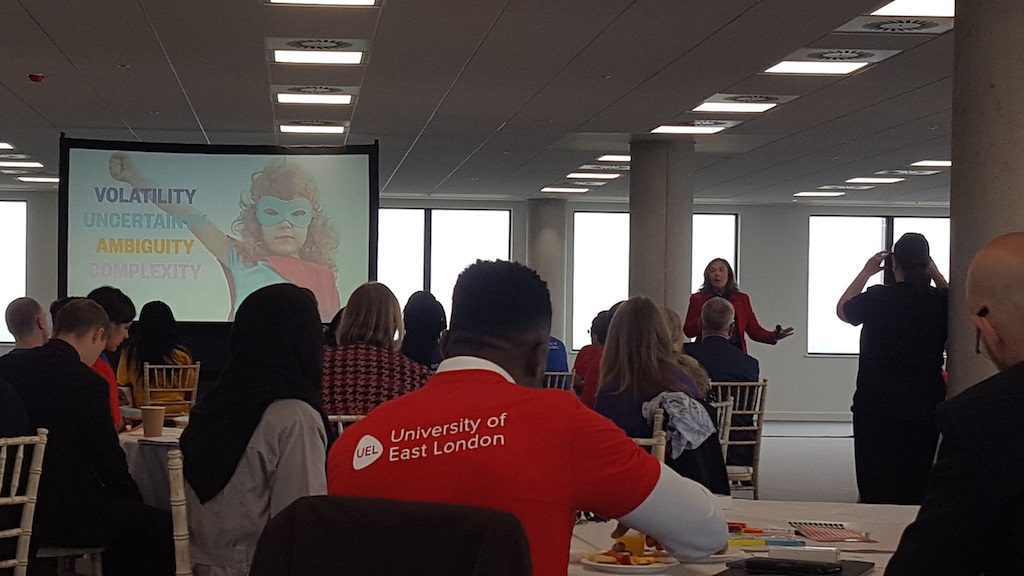 Artificial Intelligence has been used in the field of medicine with 70% of doctors able to diagnose brain tumours compared to AI technology identifying 84%. This shows the importance to address the growing skills gap yet not undermine the need for human creativity; with the combination of people and technology as the most effective outcome.
One of the participants said:
"As a student, it has been valuable to share my ideas with employers and staff on the issues facing students and what could be done. It's been a fun and interactive day."
Some interesting research highlighted across the day included:
7 in 10 hiring managers indicated they struggle to source the skills they need to succeed
55% of employers unable to fill entry level jobs in 2018
808 million people need to learn new skills by 2020
BAME graduates 2.5 times more likely to be unemployed than their white peers
57% of graduates appointed had a state-school education, compared to 91% of the population (ISE, 2018)
The day closed with teams pitching their ideas to each other before selecting the strongest ideas to be taken forward to the final pitches.
We look forward to seeing how the ideas will be implemented in UEL's strategy and collaboration with local employers and community partners.