7 ways to hack your Toy Appeal fundraising strategy
From the 29th of November until the 17th of December, ELBA's Toy Appeal grotto will be open in Canary Wharf Shopping center. This is where thousands of toys are donated to community organisations working with children who would not receive a toy during the festive season otherwise. We don't think it is right that in some areas of east London, over 50% of children live in poverty. In Tower Hamlets alone there are over 20,000 children living below the poverty line. COVID-19 has had a significant effect on the lives of children as they were affected by the illness of parents and caretakers, school closures, parents being furloughed or losing jobs, and reduced household income. On top of that, rising gas prices, cost of living increases and cuts in universal credit have left even more families feeling the pinch and worrying about the future.
Last year, we distributed over 22,000 toys and we are aiming high again! We are asking you to join our cause. To get you started, we are sharing 7 ways to hack your fundraising/donating strategy!
1. Create a company specific JustGiving page

Our ELBA elves are purchasing toys using our ELBA Toy Appeal fund. Are you keen to top us up? Promote our JustGiving Page where you also have the option to setup your own fundraising page. You can do this by clicking "Start fundraising." This is a great way to set a target and track how much money you have raised.
2. Donate the last hour of your 2021 salary
Ask your team to donate the last hour of your 2021 salary. You can collect these donations through a JustGiving Page (see instructions above) or you can start a collection pot in the office and then donate the total budget in one go to the Toy Appeal.
3. Donate a toy as a symbolic Christmas party entrance ticket

As Christmas parties are finally set return, many of us will soon start planning what to wear and speculating what will be served on our plates. For many children and families in east London, this just isn't the reality. Ask your team members to purchase a toy as a symbolic entrance ticket to your Christmas party so that a family can also join the festive spirit.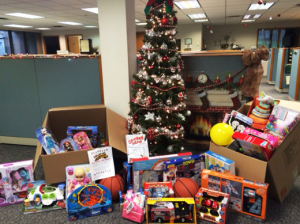 4. Set up a mini toy grotto in the office
Now many of us are back in the office, we can finally enjoy the office Christmas spirit again. Christmas jumper day, listening to festive songs and eating chocolates was just not the same in your home office. Of course, an internal toy collection point can't be missed out as being surrounded by toys is the ultimate way to get into the festive spirit.
5. Stop by in the actual Toy Appeal grotto
Do you find it difficult to get you head around what 22,000 toys looks like? We don't blame you. We are welcoming you to stop by at the Toy Appeal Grotto to drop off a toy and see for yourself the amazing work our hard-working elves do.
6. Donate through our Amazon Wish List with Smile
Are you not sure what toy to purchase? Our elves have pre-selected a great number of toys on our Amazon Wish List. You can donate with Amazon Smile through which a percentage of each purchase goes to ELBA's Toy Appeal fund, allowing us to buy more toys! Please get in touch with smera.nadeem@elba-1.org.uk if you would like to get access to a company specific Amazon Wish list.
7. Purchase an extra toy when doing your own Christmas shopping
We believe that the real festive spirit is about being joyful, charitable, generous, kind and forgiving. These behaviours may feel counter to our inclined stresses caused by festive shopping, festive party preparations and general festive interactions. Why not purchase an extra toy when doing your Christmas shopping to remind yourself of the real essence of the festive season?
We hope you are just as keen as us to make this the biggest Toy Appeal ever. Do you have a Toy Appeal strategy that has not been listed above or are you keen to get involved in another way? Please email smera.nadeem@elba-1.org.uk