The ELBA Toy appeal is back
Written by Shifa Uddin, Challenge:ELBA Project Manager
"Their faces were lit up with smiles…"
Last year's Toy Appeal was a huge success and exceeded all previous records with over 22,000 toys donated and distributed to children in east London and Islington. The appeal has grown year on year from a humble collection of presents under someone's desk, to the large operation it is now with employees from over 70 companies donating toys to support over 92 community organisations.
While it's easy to celebrate the success and scale of the appeal, the sad reality is that there were over 22,000 children that may not have otherwise received a gift during the festive season if it wasn't for the Toy Appeal. COVID-19 has had a significant effect on the lives of children as they were affected by the illness of parents and caretakers, school closures, parents being furloughed or losing jobs, and reduced household income. On top of that, the HGV shortage, rising gas prices and cuts in universal credits have left many families worrying about the future. In some areas of east London, over 50% of children live in poverty and these households are affected most by these changes. The festive period can be a tough time for many but for families that are seriously struggling financially or going through a time of crisis, celebrating the holiday and buying gifts is not a priority. The generosity of everyone that donates a toy brings a small bit of happiness to a child and takes the pressure off parents struggling financially who may worry about how to provide a gift for their children. Triangoals, a charity near Barking & Dagenham, told us:
"We have families who are struggling to provide meals for their children, so gifts are not often even thought about. We had many families who thanked us and stated that this would be the only gift that their child would receive this year."
Toys donated to the appeal are distributed to ELBA's community partners in east London and Islington. All these organisations work with families and children who are experiencing hardship for different reasons. This includes families that are fleeing domestic violence, living in emergency temporary accommodation, refugees, and children with disabilities and additional needs. With our Emergency Afghanistan Appeal coming to an end, we will carry on supporting the families through the toy appeal. A support worker told us:
"We were able to distribute toys to the most needed families and women refugees who had to leave everything behind to escape harm to them and children."
Refugees have a hard time as they have no recourse to public funds, one organisation we work with told us:
"We were able to provide toys for a group of families who have no recourse to public funds and who were stuck in a hotel funded by the council because of COVID. They had lots of children between them but had no belongings. These lovely new toys were a wondrous gift for them in these difficult circumstances."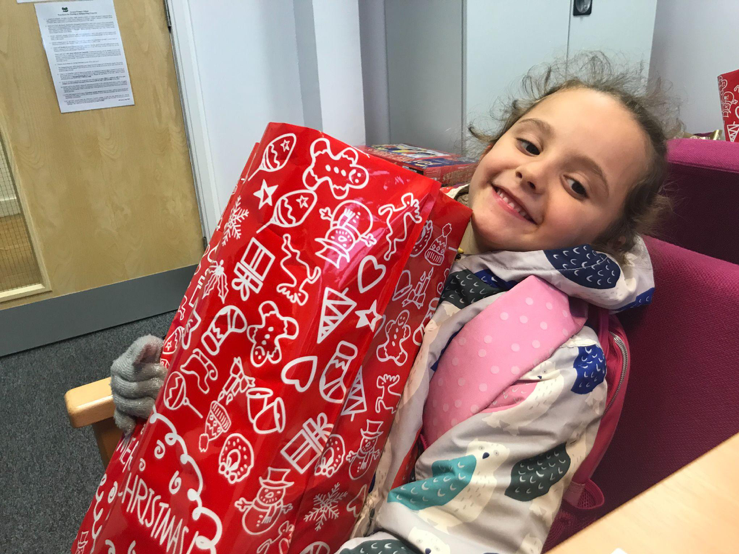 This year our community partners are planning their festive parties in full swing to bring back the festive merriment. This includes events at children's centres, hospital wards, food banks, primary schools, community centres, adventure playgrounds and much more. Here at ELBA, we will be launching our Festive Programme which includes volunteering opportunities to support community organisations with these festive parties, help out in the Toy Appeal Grotto by sorting, wrapping and distributing toys and writing letters from Santa which will go with the toys.
We believe that every child deserves to feel joy during the festive season, regardless of their background or financial situation. Each year, we ask corporate employees to donate toys to children who wouldn't normally receive a toy during the festive season due to their circumstances. We have a number of ways people can donate online – please get in touch with us to find out more. Canary Wharf Group have kindly let us base our grotto in Jubilee Place shopping centre so you can also visit us to drop off a gift. We encourage you all to get involved this year and spread the word to your family, friends, and colleagues to also support us.
For more information, please contact Shifa Uddin at shifa.uddin@elba-1.org.uk.