Primary school holiday package wows Expedia Group employees
For the 3rd year in a row, New North Academy were supported by Expedia Group as part of their school-wide Business & Enterprise Week — an annual initiative to support pupils' exposure to work-related experiences and skills.
Each class in Year 3, 4, 5, and 6 was set the challenge of researching and creating an original and innovative holiday package to include information on the flights, hotels, and activities which had to be included as part of the offer. Over 3 days, volunteers from Expedia Group visited each class to help them learn about market research, target audiences, branding and marketing, and pitching. Pupils then presented their holiday packages to a panel of Expedia Group judges, providing clear reasons on how they would market and brand their holiday package and why it would appeal to their assigned target audience.
This year's winning class was "Team Grand Cruises" who presented an amazing offer along with their own video advert designed for "Groovy Grandmas and Grandpas". Their holiday package covered everything from deluxe accommodation options to voice-activated technology, and something to suit every budget to really help "Keep your groove on the move!"
As a reward and recognition, the winning class was invited to Expedia Group in Angel to have a tour of the offices, meet the staff, and receive some Expedia Group merchandise as a prize. Additionally, the pupils were invited to perform their winning pitch again, with 20 employees attending to show their support.
Liz Feehan, who helped coordinate the visit and galvanise the employees to give the pupils an audience said:
"I had a fantastic time helping out the class from New North Academy. I cannot express how impressed I was at the quality, enthusiasm and coordination of the students and felt proud that we at Expedia, with the work of the BIG Alliance, could offer what I hope to be a truly memorable and eye-opening experience."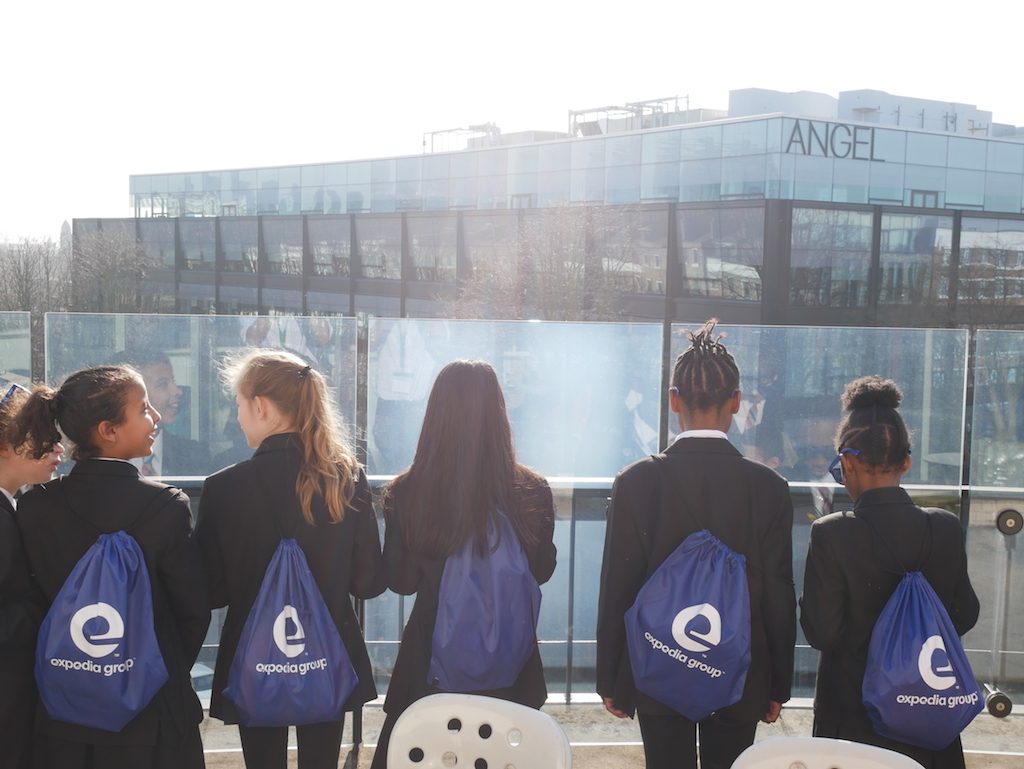 Ms Bates, the winning class' teacher, said:
"The visit to Expedia was really inspirational for the children and it was great for them to see how they will be able to use the skills they learnt in Business and Enterprise week in their careers. It was a brilliant experience for the team to present in front of the adults and to receive such fantastic feedback! Thank you again for organising, we had a brilliant afternoon and the sunglasses are still making an appearance!"
Praise was equally high from the children, with one pupil saying:
"When we went to Expedia, I finally watched the TV advert with my eyes open (I was a bit embarrassed before) and actually it was really funny! I loved visiting the office and hopefully, I might work somewhere as cool as that one day."
Angela Wallace from Expedia, who conducted the classroom visits throughout the Business & Enterprise week as well as the visit to the Expedia Group offices said of the whole experience:
"Participating in the New North Academy Business Enterprise Week was a fantastic experience from beginning to end – from setting them up with the task in assembly, to answering all kind of questions when I joined them in the classroom, to finally seeing the winning presentation. The students were so excited for the challenge, picked things up so quickly and their enthusiasm was infectious; after visiting the school in the morning, I came back to work with a big smile on my face for the rest of the day! I loved being able to give something back to the local community and loved being able to help the students and teachers out."