Moody's Volunteers "TeamUp" to Support ESOL Workshops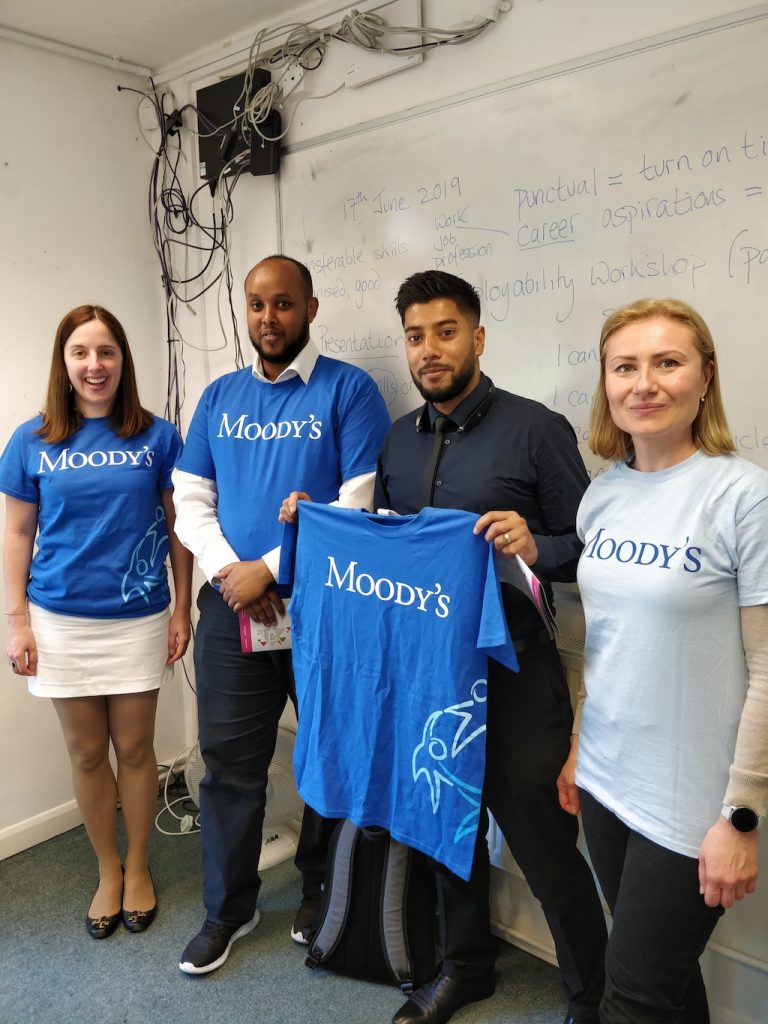 For centuries, people from across the world have found a home in east London, creating rich cultural diversity and making east London one of the most vibrant parts of the country. Whilst many have found opportunity in east London, migration does not come without challenges. The ability to communicate in English is essential for those who move to the UK and ESOL (English For Speakers of Other Languages) classes provide a valuable opportunity to develop both spoken and written language. Those who are unable to speak English face numerous barriers and are at high risk of social isolation.
During June, two teams of volunteers from Moody's supported ESOL classes run by longstanding ELBA Partner, East London Advance Technology Training (ELATT). The volunteers were tasked with assisting the Learners to create a presentation about themselves and their ambitions. Moody's are proud to employ people from across the world and it was exciting to learn that many of the volunteers had themselves migrated to the UK. In some cases, they had worked hard to improve their English language skills and so were able to relate to the challenges facing the learners.
The sessions provided an excellent opportunity for the Learners to practice their English language skills. ELATT Course Tutor, Kate Eaton said,
"The Learners all benefitted hugely from their interaction with the volunteers. Learners who had previously lacked the confidence to speak English in their daily lives, found the courage to stand up in front of a roomful of people and give a one-minute presentation, in English, about themselves, their skills and talents, and their hopes and dreams. The value of workshops like these to ESOL learners cannot be underestimated."
Moody's volunteers were taking part in the annual "TeamUp" volunteering programme which sees employees around the world give their time, skills and expertise to support community projects. Each year ELBA work with volunteers from Moody's London office to deliver over 25 volunteering projects that benefit the east London community.
Rudo Mutambiranwa, AVP CSR, EMEA and APAC at Moody's said,
"Our employees play an integral role in driving the company's CSR progress through their volunteer efforts. TeamUp, our corporate volunteering program unites people in local offices and across our different business groups to complete service projects. In developing our enhanced CSR strategy our employee engagement framework has shifted focus to more skills based volunteering that leverages the skills and expertise of our employees while creating lasting impact in the communities where we operate. We are thankful to ELATT for the opportunity to contribute to making London a more welcoming place for the ESOL students and look forward continued engagement."
Volunteering at an ESOL class is a great way to use your time to provide essential support. If you are interested in attending a session then please contact Jonathan Tait via jonathan.tait@elba-1.org.uk.