Kleinwort Hambros volunteers support east London start-ups to Pitch For Success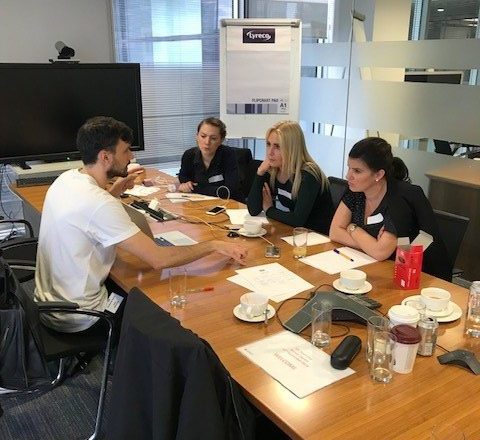 On the 12th September, ELBA's Connect Team were excited to partner with Allia Future Business Centre and a fantastic team of HR professionals from Kleinwort Hambros, to support seven east London based start-ups to perfect their elevator pitches. The team of volunteers had come together from across Kleinwort Hambros' UK offices for a strategy day. They decided to use the afternoon to lend a hand to the budding entrepreneurs. Each start-up had the chance to pitch to three different panels of 'Dragons' and listen to their feedback. The volunteers really engaged with the pitches and were able to give detailed constructive criticism.
Andrea Gamson, Incubator Programme Manager at Allia Future Business Centre said:
"Allia Future Business Centre provides capacity building support to a range of exciting east London based start ups. The pitching session that we co-delivered with ELBA is part of a wider programme that includes a broad range of development opportunities. I've had great feedback from the start ups supported by ELBA and Kleinwort Hambros, the volunteer's feedback was useful, constructive and gave the founders a chance to really practice their sales and/or investor pitch"
Team Leader, Kleinwort Hambros Head of Human Resources, Elena Orsini, said:
"The session was very well organised and we were all very impressed with the quality of the ideas presented and the amount of work and preparation done by the entrepreneurs. The afternoon went really quickly and we all learnt from each other. Definitely an experience I would recommend!"
Supporting east London based start-ups is just one way in which ELBA helps to build thriving communities in east London.
If you think that you could host a Pitch For Success session to support a group of fantastic east London based businesses or community organisations then please contact Jonathan Tait via jonathan.tait@elba-1.org.uk.