Essex interns take flight
In October, recent graduates from the University of Essex joined ELBA and BIG Alliance for three months as part of the Essex Interns Scheme, working across the Education, Employment and Community teams to support its programmes.
We caught up with interns as they reflected on their experience at ELBA and learnings along the way.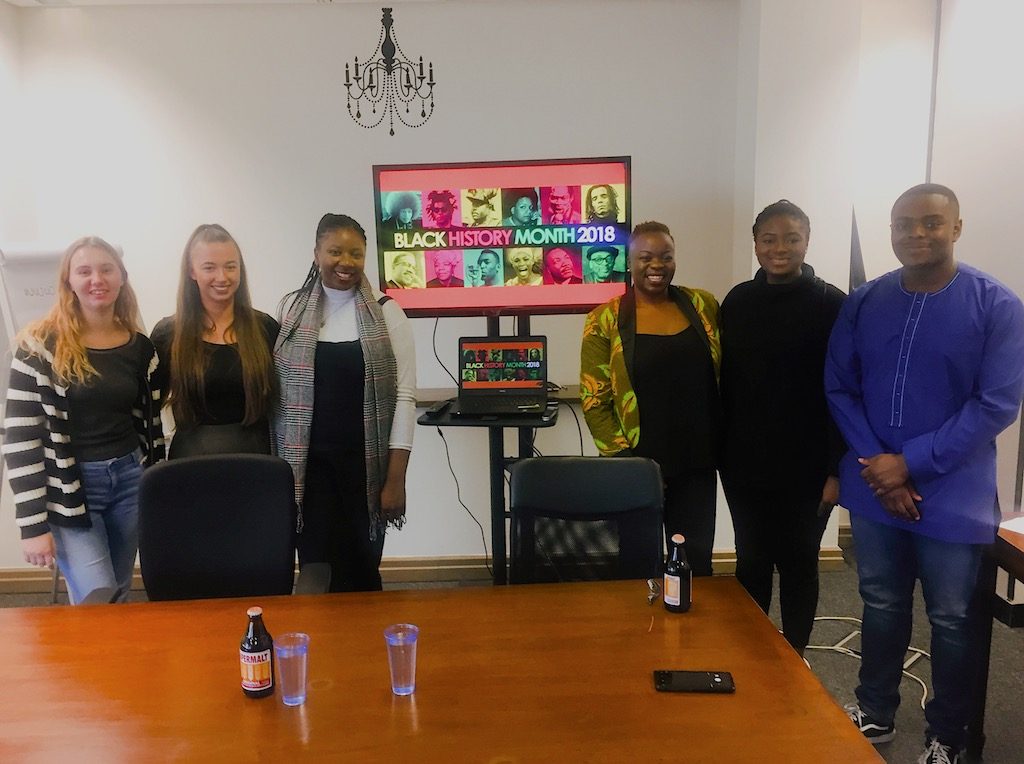 One of the tasks was organising the first Black History Month event for ELBA staff. Ese, Project Coordinator, Education Team described the experience:
"Together we sourced a guest speaker through social media, put together and delivered the presentation and catering. It was a mini project in itself on top of our busy workload, it was a huge highlight and achievement for me."
Another highlight turned learning experience for one of the interns was delivering an impromptu presentation at 'UBS 100 Day' on the second day of the job! The annual event includes a series of ELBA-facilitated employment skills sessions such as networking, CV skills, interview skills and presentation skills for college students and was supported by 100 UBS volunteers. Nick, Project Coordinator, Connect ELBA, described this:
"One of the teachers suggested it would be good to share my experience and advice as a young graduate. I was asked to go up in front of a room of 80 people and it wasn't planned. Public speaking is something I wanted to work on- I did it and it went really well. I saw it as an opportunity to give back."
As the interns came to the end of their placements, we asked them to reflect on what skills they had learned as a direct result of their projects. Megan, Development and Communications Assistant, Employment and Skills (Parity Project) said that she'd gained a variety of skills:
"Through the connections of the project, I have been able to grow as an individual. From running my own Lunch and Learn, assisting employability presentations and attending insight visits. I feel more organised and confident speaking to people in a professional environment."
While Laura, who worked as Admin Assistant & Comms Coordinator, London Works, said:
"Working on the social media for London Works, I learned a lot about current affairs in the workplace as I spent my time researching and scheduling posts on work related issues such as gender pay gap, diversity and East London. I have improved my communication skills and creativity. Since being here, I have developed a passion towards marketing and see this as a career I would like to explore."
Meanwhile, in Islington, at the BIG Alliance, the intern also shared their experiences, with Syed, Education Project Coordinator, BIG Alliance, saying:
"My internship at the BIG Alliance has given me opportunities in the team and at ELBA I wouldn't have had otherwise. For example, I attended a HR insight session at Societe Generale which was one of the most engaging sessions I've been to. It gave me a real insight to the diversity of the field. The team has been really supportive and allowed me to take on a range of projects. Prioritisation in the workplace (especially in a small and busy team) is a key skill I have learned. It's been a pleasure to be part of a hard working and fun team."
The Essex interns couldn't leave without sharing some valuable advice for students and recent graduates on navigating the world of work:
'Build professional relationships during University to build your network.'
'Be open minded, University can be a bubble.'
'As a young person, be open to listening to others and their ideas in the workplace.'
'Don't be afraid to take on a challenge.'
Some of the words they used to describe their time at ELBA and the staff: Fun, passionate, community spirit, inspiring, driven, engaging, friendly and supportive.
The interns made a real mark and were an asset to their teams and ELBA. We are pleased that the ELBA journey continues as the interns have successfully made it on to ELBA's flagship graduate programme, EaGLES and will begin their placements in March. Syed will be working in America over the summer. We look forward to following their journeys as Eagles and beyond!
Article written by Merossa Cofie, Education Project Coordinator