My Work Experience placement with ELBA
My name is Ruben Elendo and I am a final year Business Computing student at the University of Greenwich. Over the past two years I have participated in ELBA's Greenwich High Flyers initiative. Greenwich High Flyers provides students with the opportunity to gain access to both business mentors and insight into ELBA's corporate partners. I was paired with a brilliant mentor from an ELBA corporate partners, Royal London, who has given me some really valuable advice and guidance.
Last year I attended an ELBA facilitated Career leadership programme at T.Rowe Price where I met one of ELBA's Programme Managers, Jonathan Tait. After the session I connected with Jonathan on LinkedIn. I have spent the summer holidays thinking about what I will do once I graduate and a few weeks ago I decided to get in touch with him to ask whether I could do some work experience. He offered me a placement and, within a couple of weeks, I arrived at ELBA for my first day of work.
"I was interested in working with ELBA as I would have the opportunity to mix three areas that I am passionate about: business, education and helping society. The experience has been unforgettable. Gaining work experience within an organisation that works with businesses to deliver projects that help schools, universities and local communities has been really rewarding… Each day I have learned something new and expanded my capabilities within the workplace."
On my first day I accompanied ELBA staff to visit the Financial Ombudsman Service's office in Canary Wharf for their volunteering policy launch. I had the chance to speak to the employees about the opportunities that ELBA can offer and the projects that ELBA are currently working on. I learned that volunteering is a great way to broaden horizons and create positive impact in the local community. It was great to see how businesses get involved.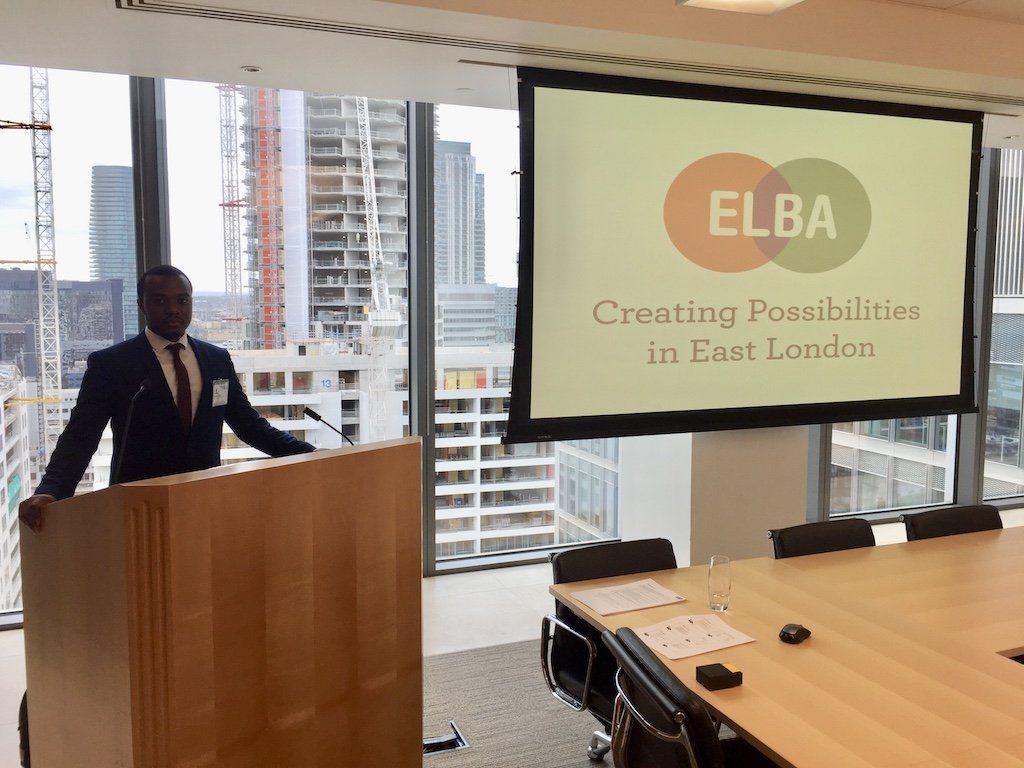 The following day I went to visit teams of volunteers from UBS and Societe Generale at Victoria Park and Tower Hamlet Cemetery Park respectively. The volunteers were really helping the local communities by maintaining the parks for the people to use .
I also went to a Provision Fair at Canning Town Job Centre Plus with ELBA's Parity Project Manager, Eni Timi-Biu. Eni was presenting on Parity which supports young black men into employment by providing opportunities which offer insight into the corporate sector. As a young black man I can really relate to this initiative and so was excited to take part in one of the project events.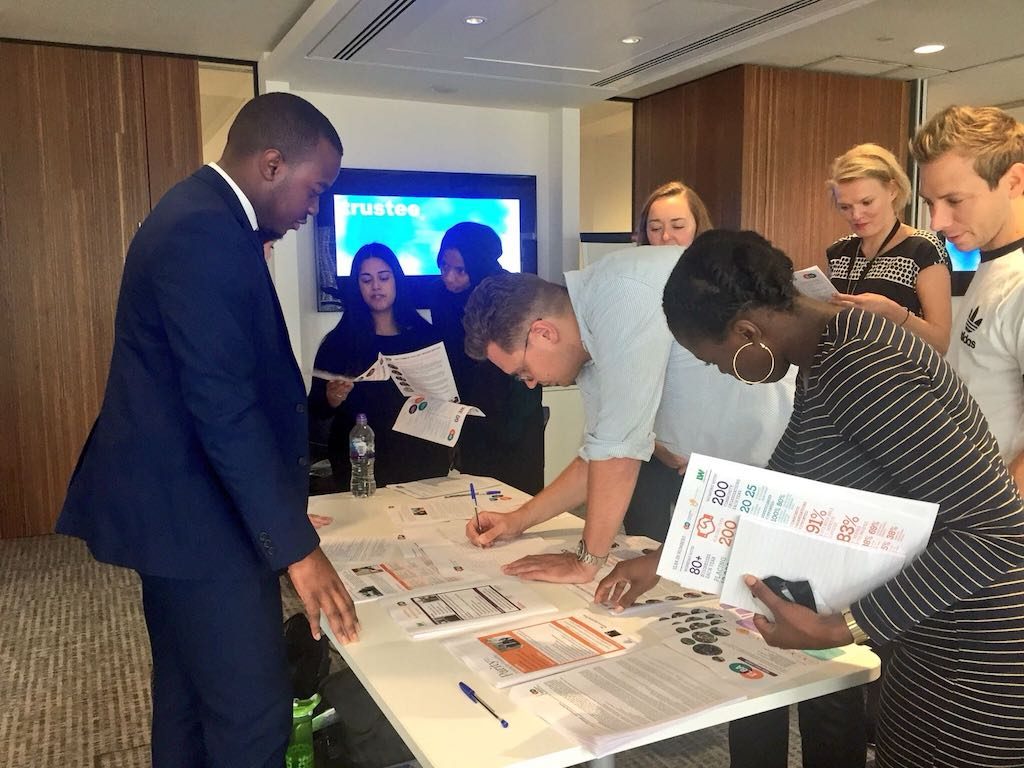 My next venture out of the ELBA office was to visit a team of Kleinwort Hambros volunteers at Societe Generale's Liverpool Street office to help deliver a workshop called Pitch for Success. The Kleinwort Hambros HR team had volunteered to support a group of east London based start-ups by listening to their elevator pitches and offering critical feedback. The session went really well because the panellists were really engaged and used their industry knowledge to offer valuable feedback.  
ELBA has a graduate programme called Eagles which places talented local graduates at corporate companies for six-month paid internships. Before they begin their placements, the Eagles spend three weeks training at ELBA so I had the opportunity to meet them. I asked them questions about their experience of the programme so far and was pleased to hear that they all felt that they were learning a great deal. The Eagles were looking forward to starting their placements.
Finally, I had the opportunity to work with ELBA's education team. I attended their weekly team meeting where they discuss upcoming project and activities involving ELBA's corporate partners and local schools. It was great to learn about how schools partner with businesses to help students develop their skill sets and capabilities. I am very passionate about education and helping young people to reach their potential. ELBA continues to support east Londoners to do that and so I am grateful for the opportunity to witness it first-hand.
During the course of my degree, I have decided that I am no longer interested in working in a role that focuses solely on computing. I don't like the idea of spending all day behind the computer because I really enjoy working with other people. I now feel that I can relate more to the business side of my degree and so am focused on learning more about how to manage a business, how they operate and what successful leadership looks like.  
A big thank you to ELBA for giving me the opportunity to learn more about the world of work and for helping me to get one step closer to finding the right career.