Toy Appeal 2021 – Togetherness in an ever changing world
Written by Amadiora Emechete, Challenge Project Manager, ELBA
Toy Appeal 2021 was the second Toy Appeal marked by COVID-19.  The annual event sees the public and employees from the City and Canary Wharf donate toys to children in east London and Islington living in deprivation. We were blown away with the generosity and the final numbers: over 18,000 toys were donated, putting a smile on so many children's faces. Toys donated to the appeal are all distributed to community organisations working with families facing hardship, including domestic abuse refuges, food banks, hospital wards and children's centres.
"I was so excited opening my present it was the best present I have ever got."
– beneficiary from Hanley Crouch Community Centre
It is the sad reality that 2021 was a rollercoaster for many families and children once again; the first half was marked by a strict lockdown and getting used to the "new normal", the second half by the end of furlough scheme, rising energy prices, inflation and the omicron variant increasing the number of families struggling to make ends meet. In some areas of east London, over 50% of children live in poverty and these households have been hit hardest by the changing climate. The Toy Appeal did certainly feel this; more toys than ever were requested by the community organisations we work with. ELBA believes that none of these children could be missed out this Christmas; not only to put a smile on their face and give them some sense of normality, but also to take some pressure off parents struggling financially, so we had to get all hands on deck to make Christmas happen. Gill Carter from Help on Your Doorstep explained why the Toy Appeal is so important for their beneficiaries:
"Distributing toys at Christmas to families who experience financial hardship and who often depend upon low social welfare payments means our local community sees us as an organisation who truly cares about our local residents, during good times and hard times. After many months of COVID restrictions many families have been impacted negatively and are really struggle to make ends meet. Supporting families by providing them with toys has given many people a lifeline – the toys have brought joy and happiness to children. Furthermore it has brought an immense sense of relief to parents. These parents now see our organisation as an ally who they can depend upon for support. They trust us even more now and value that we support people in our local community, especially those who are traditionally marginalised or who are experiencing times of financial hardship."
Shannon, a mum to a four year old girl and to seven and ten year old boys said:
"Christmas is a really hard time and so many children get really spoiled and that puts even more pressure on you as a parent knowing that you are not able to give as much to your children as other people do. The kids don't really understand this. Trying to budget with the normal cost of daily living is a challenge, so thank you. I really appreciated the toys that were given to me which were lovely and brand new. It was nice to see a couple of more things under the tree and the kids loved their presents."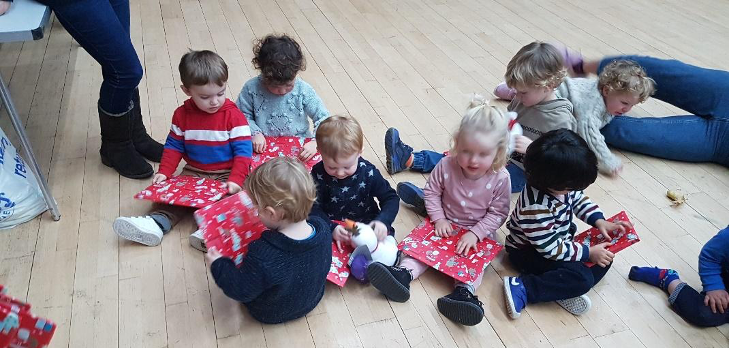 Our business partners played a particularly important role in this operation. Over 80 companies got involved in fundraising activities and purchased toys from our Amazon and John Lewis wish lists. We also partnered with local toy shops such as After Noah and a family-run wholesaler called Albert-Harrison through which we purchased toys using the raised funds and received a great number of extra toys for free! We welcomed new donors such as Man Group and long standing supporters such as UBS, Credit-Suisse and HSBC were our biggest toy donors.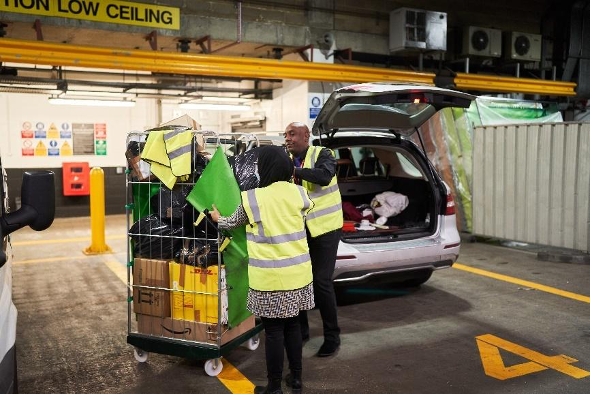 We would like to say a special thank you to Canary Wharf Group who provided a retail unit in Jubilee Place shopping centre to host our grotto. Their support with logistics allowed us to distribute the 18,000 toys to 100 community organisations. The retail unit also meant that members of the public could visit the grotto and drop off toys, providing us with almost 1,000 extra toys.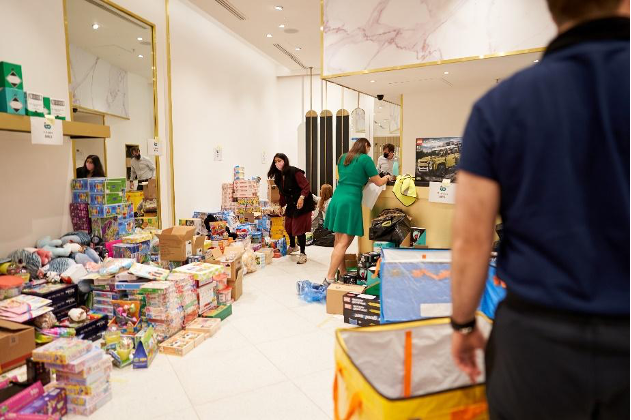 Julie Dang, CSR Co-ordinator at Canary Wharf Group says:
"In such uncertain times, we are proud to have been able to support the ELBA Toy Appeal by providing a space in our Jubilee shopping mall for the ELBA team to collect, sort, and deliver toy donations from. We wanted to provide a space that was substantial enough for the team to work with but it was also vital that the shop was easily accessible with reasonable footfall to drive the Appeal to reach and exceed their targets to benefit as many underprivileged children and families as possible."
We were thrilled to welcome back in-person volunteers this year with 210 corporate elves from organisations such as Vita Coco and Moody's in the Toy Appeal grotto who engaged in taking deliveries and sorting, picking, wrapping and loading the toys ready for distribution.
Fransecsa Purser, one of our Grotto volunteers says:
"We thoroughly enjoyed our time spent helping at the ELBA Toy Grotto in Canary Wharf. Whilst Christmas is a magical time for most of us, there are many children for whom Christmas doesn't happen, or certainly not on the scale of others. It was wonderful to see the generosity of people and the quantity and range of gifts provided. This is a wonderful cause and we look forward to participating again next year."
The Toy Appeal had an extra special ending; ITV news had found out about the massive operation and included a feature on us during prime time. This increased awareness brought in £2,000 in extra funds on the last day of the Toy Appeal. Watch the video here.
The Toy Appeal has become a symbol of people's kindness and togetherness. While it's easy to celebrate the success and scale of the appeal, the reality is that if it wasn't for the ELBA Toy Appeal there would have been thousands of children who would not have received a gift at Christmas.  We would therefore like to invite you to hold this sense of community to build a brighter future all year round.
"The Toy Appeal ultimately generates an amazing aura of happiness within the community as we are able to put smile's on the faces of kids and many others who also benefit from this generosity shown by the toy appeal. With that being said, a certain level of togetherness is constructed as well as trust and value as those who are the recipients of these gifts will begin to understand our passion and intentions are for this community."
– JDS Striving for Exellence