Serving up experience during back-to-the-floor day
The challenges and rewards of working for a busy catering company were experienced first hand for one ELBA worker recently.
Siobhan Scantlebury, ELBA''s Skills and Employment Programme Manager went back to the floor to work for Harbour and Jones, a corporate partner which specialises in workplace dining, conferences and banquets.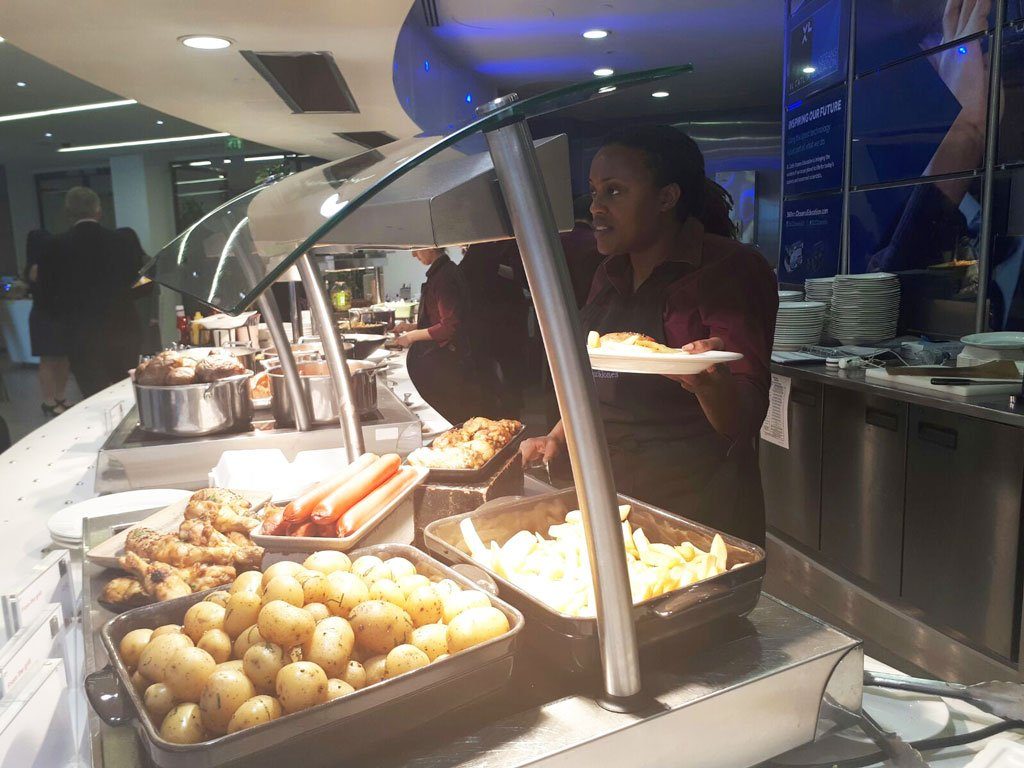 In a bid to better understand the realities of working for Harbour and Jones, Siobhan spent a day at an insurance firm which relies on Harbour and Jones to feed its workforce. ELBA has been working with Harbour and Jones for two years and it was hoped that Siobhan's experience with the company would give her an even broader idea of what skills potential candidates for positions would need as well as being able to paint a more vivid picture of the practicalities of working in the catering industry.
After being kitted out in her uniform, Siobhan received a Health and Safety induction, site tour and joined a team meeting / morning briefing. Then the hard work really started. Joining the front of house team, Siobhan spent a number of hours helping serve freshly-prepared food during the busy lunchtime period. She was also able to experience Harbour and Jones' fine dining service, which is less busy, but requires skills similar to silver service. Talking about the experience, Siobhan said:
"It was invaluable to have first hand experience of what it's like to work there. What a great way of helping us identify suitable candidates and to improve the information that we're able to supply to candidates at the point of engagement."
Siobhan added that while the experience was enjoyable, it was also hard work:
"I have a desk job so being on my feet all day was a challenge! It was a fun atmosphere to be in. People work really well as a team to ensure a smooth running operation; everyone is very friendly and helpful and there is a fantastic relationship between those cooking and serving the food and the workers who are dining."
Andy Clark, Head of Hospitality and Food Service at the insurance company where Siobhan spent the day, was in charge of overseeing Siobhan's work and said:
"Having Siobhan on site was great fun, she has an infections personality and worked very well with the team. It was great that she wanted to spend the day with us as this greatly helps all parties to have an insight into what we do and I am very pleased she enjoyed it, as we enjoyed working with her. Siobhan is always welcome back along with any Member from ELBA."
It is now hoped further similar experience days can be organised in different sectors and industries.