A final farewell to Liam Kane, ELBA Chief Executive, 2002-2016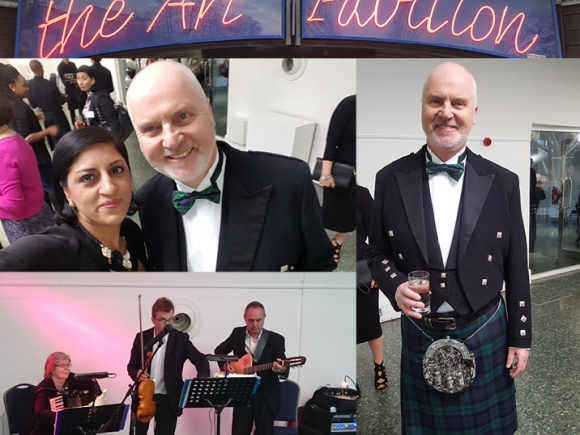 The new financial year marks the end of an era for East London Business Alliance, as this month we say goodbye to Liam Kane who is retiring as CEO.
Since 2002, Liam's dynamic leadership has transformed a tiny organisation which was struggling to stay afloat into a dynamic and sustainable force for good in east London and beyond.
Despite the changing fortunes of the City, changes in company CSR approaches and the shrinking of public funding, Liam's drive for growth has built our alliance of corporate partners from 30 in 2002 to over 80 today, staffing levels from 8 to 50, and annual employee volunteers from around 2000 to over 12,000. We are now working with 27 schools, and 5 universities; every year we make an impact on more than 10,000 students and place 500 east Londoners into work.
Liam has overseen the development of some extraordinary programmes and new projects including:
The EaGLES programme now in its eleventh year with  96% of those who successfully completed the scheme going on to find permanent employment
The Business Action Groups for Schools programme, working in 17 schools across Newham and Waltham Forest
Embedded Projects in Shadwell, West Ham, Canning Town Shoreditch Hackney, St Pauls Way and Beyond Boundary
The development of our employment programme, our award winning training into work model and the establishment of  London Works
The BIG Alliance, taking the ELBA model into Islington
Challenge ELBA, delivering over 8,000 volunteers a year
The growth of East London Business Place
The Legacy Programme and the delivery of cultural, sports and youth programmes
Our corporate partners and supporters will also be sad to see Liam go. Martin Stanley, Global Head, Macquarie Infrastructure and Real Assets said, "Those of you that know Liam Know that he is a force of nature. He's driven, he's focused, he's passionate about what he does, and he naturally attracts people to want to work with him. His charisma and dynamism is a big part of why we work with ELBA."
Justine McGuiness, Non-Executive Director of London Works commented that "You only have to be with Liam for one minute to know that he is overwhelming excited about tackling this issue and that enthusiasm has been installed right the way through the [ELBA] team."
Danny Postill, Facilities & Property Director For and Behalf of CMS, described Liam as "Energetic, inspiring, full of stories… I certainly feel for the person trying to step into his shoes he's done an obviously sterling job over the years."
And ELBA's very own Julie Hutchinson, Employment & Skills Director / London Works Managing Director said, "There's something in Liam endorsing and believing in what things could be. Not just for London Works, not just for ELBA but for the people of east London."
Liam's legacy is the health of ELBA and the impact we have in the community, the passion we all feel for our work and the commitment to a new era.
We will miss Liam and are really looking forward to working with Ian Parkes, ELBA's new CEO.