One year of BoardMatch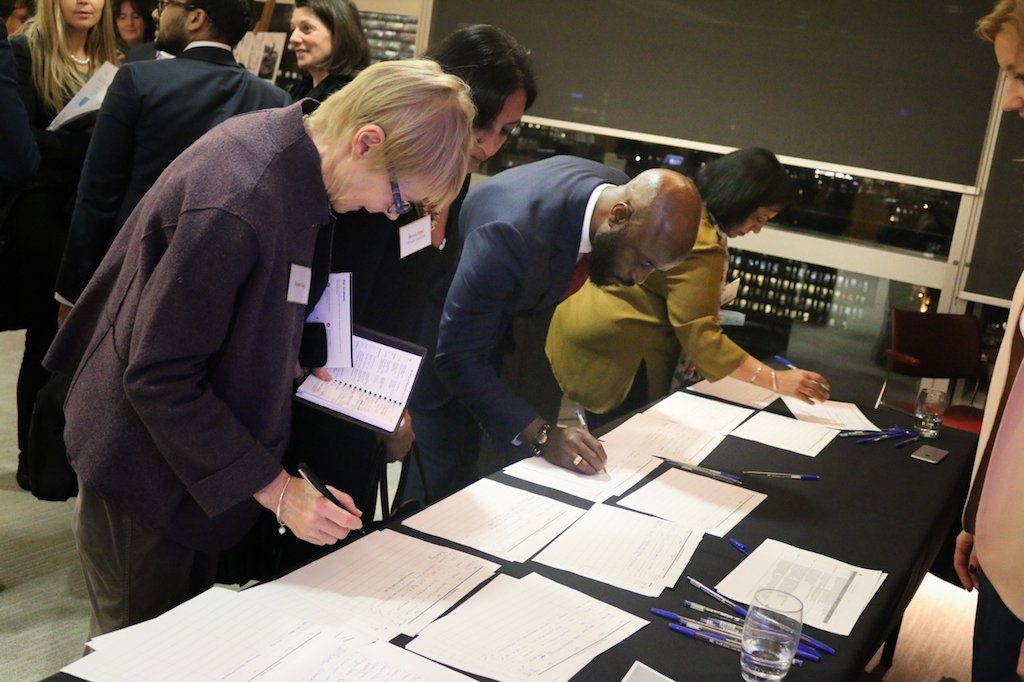 Photo from BoardMatch2 event
It's been just over a year since we launched our BoardMatch series and, after hosting BoardMatch4 on 21st May, we thought we would take time to look back over what has been achieved in the past thirteen months.
BoardMatch events bring together a selection of ELBA's Community Partners and a number of employees from ELBA's corporate partners. The evenings are an opportunity for prospective trustees to learn about the different community partners and to formally register their interest in joining the board of one of charities. Each event is comprised of two identical sessions during which prospective trustees have the opportunity to listen to a pitch from each of the Community Partners and meet their staff.
ELBA's aim is to both encourage City and Canary Wharf professionals to use their skills and expertise to support the third sector, and to increase diversity on charity boards. A 2017 Charity Commission report showed that 64% of UK trustees are male, 92% are white and the average age of a trustee is 61. ELBA's BoardMatch events are attended by an extremely diverse range of prospective trustees and we are delighted that BoardMatch assists east London charities to increase diversity on their boards.
Our inaugural BoardMatch event took place in April 2017 with Linklaters acting as the first ever host. Nomura hosted BoardMatch2 in November and BoardMatch3 took place in March 2018 at Credit Suisse. A total of 179 prospective trustees met with 35 different community partners over the three events and 53 trustees were placed at east London charities.
Following BoardMatch3, Karla Barnacle-Best, CEO, Discover Children's Story Centre said:
"BoardMatch was a great event. It was really well organised, with lots of support provided along the way. It was a time-effective way of reaching lots of prospective Board members and having an informal chat to see if there was common interest between organisations and individuals. Discover was able to meet people with whom we might not otherwise have been able to engage and, I am really pleased to say, we have gained two new Board members."
Yasim Raza, Senior Associate at the Financial Conduct Authority, joined the board of The Magpie Project following BoardMatch3. She said:
"I found the Board Match session really useful. The structure was spot on. Hearing a brief 'pitch' from each charity and then having the opportunity to network and chat to the charities that interested me was an ideal way to find the right connections. The event led to me securing a board position at a very exciting Newham based charity, and I am really pleased that attending the session led to me taking on this fantastic new challenge and offering something back to the local community."
One the 21st May we staged BoardMatch4. This time, Societe Generale played host to 14 community partners and 56 prospective trustees. ELBA staff will be working with the 14 community partners over the next two months to place lots more fantastic trustees.
A strong board of trustees with a varied skill set is extremely valuable to any charity and we are delighted to have been able to support so many east London organisations to add to their board over the past year. With planning for BoardMatch5 already underway we are looking forward to placing many more in the coming year!
If you are interested in becoming a trustee at an amazing east London charity then please contact Jonathan Tait via jonathan.tait@elba-1.org.uk.