International Volunteer Manager's Day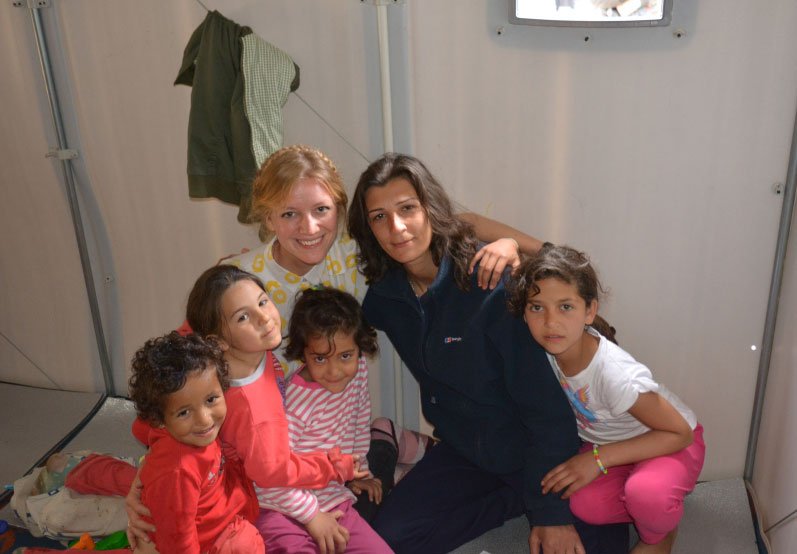 ELBA's Henriette Johansen seen above in Chios, Greece, where she spent time volunteering in a temporary camp last year
'Well-led volunteers become an advocacy and public relations force for an agency or program — a force no amount of money could buy.' (Volunteer Managers Day)
5th November marked International Volunteer Manager's Day. Here at ELBA, we believe that volunteering is a vital part of society. The charity sector is currently facing significant pressures whilst inequality and gaps in welfare are widening. In this climate, volunteering not only builds resilience and capacity in local communities, but brings people together across sectors around common social goals in solidarity.
I recently joined ELBA's Community Team because I believe in the power of local charities and cross-sector collaboration. Last year, ELBA placed over 12,000 people in volunteering opportunities in East London's local communities. Despite hosting one of Europe's most affluent districts, Canary Wharf, Tower Hamlets is also one of the poorest boroughs in the country. It has the highest rate of child poverty and 7 out of every 10 households claim benefits to cover their rent. However, the communities in East London are rich in initiative and enjoy a range of charities providing the much-needed social services.
Here at ELBA. Ashley Rice works with volunteers as a key part of his role as Challenge Project Manager. I asked him his thoughts on the most rewarding and challenging aspect of managing volunteers:
"The community organisations that we work with represent all aspects of life including young and old, different ethnicities and different causes. The volunteers also each have their own story of why they are volunteering and want to give back to the community. Seeing this passion is one of the main rewards. People's generosity is always so impressive and it's great to see them get invested in their community. Being able to bring people together to have a meaningful impact in the community is the best thing about managing volunteers."
As part of ELBA's Community Programme, Project Manager, Jonathan Tait, brokers skills-based volunteering opportunities with community organisations in Newham. Here are Jonathan's reflections on why volunteering matters:
"Volunteering matters because it helps to foster strong communities. We all exist within a range of different community networks and are therefore directly affected by how well they are functioning. Supporting an organisation that is meeting a community need to meet that need more effectively has a positive impact on the entire community whether it's at local, regional, national or international level. Volunteer managers can be advocates of change because we inform, influence, broker and deliver. At ELBA we have a unique position of being equally well connected to our community partners and our business partners, giving us insight into the issues that our communities are facing and the resources that might be drawn upon to solve them. We are therefore able to uncover new community needs and help to shape solutions which change our communities for the better."
My personal experience of volunteering has always been centred on a passion for social justice, in particular, with regards to migration and human rights. I have never doubted the value of volunteering, whether it meant teaching English; night patrolling beaches for refugee boats; advocating policy reform; helping people through asylum procedures; or assisting ELBA's local community partners in their brilliant work bridging gaps in social protection and welfare. Managing volunteers has always been a reciprocal experience that gave me back ten folds, whatever I invested.
Written by Henriette Johansen, Project Manager in ELBA's Community Works team