The mental impact of COVID-19 on our young people
Written by Merossa Cofie, Project Manager, Mentoring Works
Navigating this new 'normal' has been challenging for everyone, no more so than for our young people. GCSE and A-Level students won't be able to sit their exams after years of preparation and final year university students who were excited to don the infamous gown and throw their mortarboards into the air, will miss out on this milestone. Not forgetting all of the teachers and tutors, who put their heart and soul into every lesson and tutorial to help their students reach their full potential, will not now see the fruits of their hard work either.
There will be students who've been applying for graduate jobs or summer internships, having either secured a place or preparing for an interview, excited at the prospect of their first entry job or building their CV, only for recruitment to be halted.
Students will also be missing the social element that comes with the education environment, meeting friends, having fun and studying together. Instead, the uncertainty, anxiety and, in some cases, grief means the morale of our young people is undoubtedly at an all time low. A recent survey, from mental health charity, YoungMinds found 51 percent of young people with mental health needs in the United Kingdom (UK) reported that the current coronavirus (COVID-19) pandemic and the resulting public health measures have made their mental health a bit worse, with a further 32 percent saying it had made their mental health much worse.
None of us could've foreseen these circumstances or outcomes and we have all had to adapt but we have to recognise and be mindful of how this is affecting our young people and the support they may need in the years to come. It is essential that young people being can continue to learn in this period of upheaval.
At ELBA we are exploring how COVID-19 has impacted on education and the importance of keeping our programmes going through this challenging time. Research from the Institute of Fiscal Studies, reported that children from better-off families are spending 30% more time on home learning than are those from poorer families. This is compounded by factors such as those living in unpleasant conditions, lack of access to a device such as a laptop or an iPad with internet for learning and those with special needs who require tailored support, will further increase the existing attainment gap between these groups. Justine Greening, Founder of Social Mobility Pledge and former Secretary of State for Education, insists 'it's vital that those most disadvantaged by the school shutdown are prioritised first. There are lots of solutions out there if we look for them. But we can't let coronavirus widen education gaps'.
With schools set to reopen in June for some students and uncertainty around how many students will return and in what capacity, there is a risk that those who are most at need of returning to structured school learning, will continue to be adversely impacted. ELBA's Education Team continues to find new ways to adapt and deliver our programmes, engaging students with employers. Luckily the interest from students and professionals has been amazing. The Mentoring Works team have continued to support mentors by creating and sending weekly resources adapted for telephone mentoring – covering topics such as healthy home learning, CV skills and mock telephone interviews.
Nuriye Mertcan, Assistant Principal at Duke's Aldridge Academy, one of the schools on ELBA's Mentoring Works programme, shared her thoughts on how the programme has helped support their students during this challenging time:
"It has been a great help to know that our students have someone else to talk to during this difficult time. As one of our students put it when one of their mentors got in touch to check in and ask if they wants to talk: "I might do and you will be the first person I will come to". The fact that the students maintained their mentoring relationships post March is a testament to the effectiveness of the programme."
The team recently had Sixth Form students take part in sessions to learn about careers in different industries, practise their communication skills through mock interviews and CV workshops. This has kept students stimulated and motivated to keep focusing on the future.
"The workshops organised by ELBA have been very positive for supporting our students' mental health during lock down. Learning about career opportunities has provided them motivation and a goal to focus on, and developing new skills has given them a form of mental stimulation during a worrying time. It has been useful for them to communicate with their teachers, friends, and experienced professionals. It has reassured them that despite the lock down they still have opportunities to learn and upskill, reducing some of the fears about what the future may bring."
– James Bounds, Teacher, Newham Collegiate Sixth Form Centre (The NCS)
"Participating in the ELBA workshop was extremely helpful to me, especially in quarantine. Due to the lockdown, I felt as though I had more restricted resources and would not be able to get the same support as before but the workshop showed me that it is still possible to get just as good support regardless of the current situation. The workshop increased my confidence greatly regarding my future career paths and also regarding the different opportunities we have during quarantine."
– Sixth Form student, NCS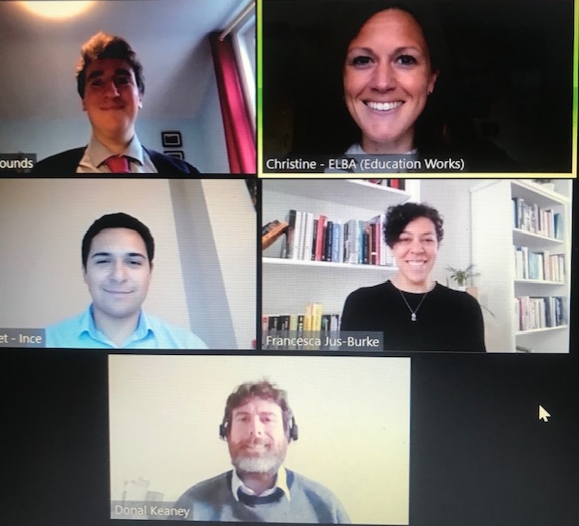 It is hard to predict when and how our world will 'return to normal' and if it will ever be quite the same. However, ELBA's Education team remains passionate about supporting our partners and students wherever we can, as we know our company partners are too, and we will continue to deliver quality opportunities for skills and employability development to inspire the next generation.