State Street host first ELBA CSR Network event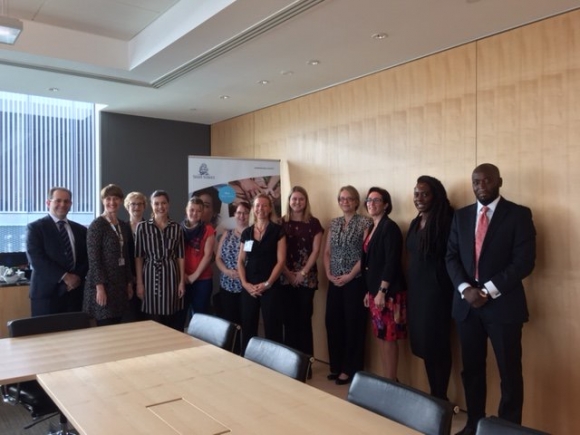 Keen to see if there was an appetite among business partners for a forum to share ideas and knowledge of Corporate Social Responsibility (CSR) programmes, ELBA organised the first ELBA CSR Network meeting on 4 October. Kindly hosted by State Street in their impressive Canary Wharf offices, the objective of the meeting was to informally discuss challenges, share successes and learn from each other.
Eleven attendees from nine ELBA business partners discussed the topic of 'How to encourage employees to volunteer with limited resources'.  The subject-matter encouraged attendees to raise other wide-ranging challenges such as the need to balance quality with the quantity of volunteers , how to engage all types of employees in volunteering and how to effectively measure impact.
The event coincided with State Street's "This is Why I GIVE" month, an annual campaign which aims to promote and raise awareness of their community engagement programmes and encourage staff to share stories of their personal giving and volunteering activities.
Feedback following the event was overwhelmingly positive for a continuation of this type of event. Participants gave their feedback into what future topics they would find most useful to discuss. More details will follow about the next CSR Network meeting likely to happen early in 2017.
Sharon Auger, Assistant Vice President, Corporate Citizenship at State Street said:
"State Street was delighted to host this inaugural meeting and reinforces our commitment to support the communities where we live and work.  ELBA has been a long-standing partner and we have benefitted from their local knowledge and expertise, as well as thought leadership, over the years.  The launch of the CSR Network is a further demonstration of the strategic approach that ELBA has in bringing together corporate partners to collaborate and provide solutions to potential challenges, while building on common successes."