Join ELBA's Just Turn Up Day in September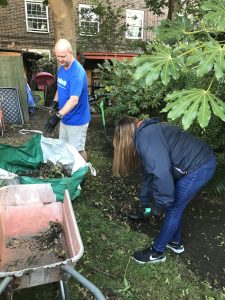 ELBA's Challenge team has traditionally run Just Turn Up Days throughout the year as a way for individuals to experience volunteering. Volunteers from across ELBA's member companies come together to tackle a practical project in the community. Unfortunately due to COVID-19, the March Just Turn Up Day had to be postponed indefinitely and since then, all of ELBA's volunteering events have been taking place online.
The lack of physical volunteers and the resources that they bring has been felt in the community and tasks have begun to pile up. Teams of volunteers are essential for maintaining community places and spaces, many of which have seen increased usage during lockdown – like the outdoor spaces, parks and food banks.
As offices begin to reopen and people start to adapt to a new normal, it is important that volunteers can mobilise in person again. Therefore, ELBA has scheduled its first Just Up Day since lockdown began for 25th September. ELBA is looking for a small team of 6 volunteers to support Teesdale and Hollybush Tenants' and Residents' Association (TRA).
The Teesdale and Hollybush TRA is made up of 13 estates and one high rise near Bethnal Green. The TRA has been instrumental in building a closer knit community, developing spaces in the area to reduce anti-social behaviour on the estates, as well as creating a community garden for children and parents. During the COVID-19 pandemic, the TRA has been supporting vulnerable residents with food and care packages.
The TRA now need volunteers to help maintain the outdoor spaces again which have become essential for residents during lockdown. Volunteers will be clearing areas, weeding, cutting back overgrown vegetation, planting and taking part in general maintenance. While many people talk of a return to "normal," if we don't act quickly, there won't be a normal to return to for community partners who have already been affected badly by COVID-19 and its consequences.
ELBA has worked closely with the TRA to make sure volunteers are safe and that government guidelines are adhered to. All volunteers will receive a project brief, risk assessment and COVID-19 specific guidelines for volunteering, as well as a full health and safety briefing on the day.
To reserve a place or find out more, please contact smera.nadeem@elba-1.org.uk or call 07703 187 747.
Date: Friday 25th September
Timings: 09:45am – 3pm
Location: 3 Hollybush Gardens, London E2 9QT
Cost: It's free to take part!