#EndTheStigma – Mental Health & Wellbeing through Team Challenges
May sees the launch of Mental Health Awareness Week (May 14th – May 20th). At the East London Business Alliance we have officially pledged our support towards the campaign. One in four in the UK is affected by a mental health problem (Mental Health UK, 2018). As researched by New Economics Foundation, 2018, there are 5 ways to improve ones well being: to connect, be active, take notice, keep learning and give! Team Challenges are a great way to do this while giving your time and efforts to a great cause and learning about the communities they serve.
Poor quality and poorly maintained local environments can contribute to increasing the risk of mental health issues in communities (Healthy Minds, Healthy Lives, Camden and Islington Annual Public Health Report, 2015). Green spaces and projects like Core Landscapes transform unoccupied plots in deprived urban areas into hubs for community engagement. This is done through horticulture, design, workshops, training and events improving physical health, mental wellbeing and community cohesion, resulting in a green haven for the community by the community. Nemone Mercer, Core Landscapes Horticultural Nursery Manager said:
"ELBA has been instrumental in enabling our beneficiaries to work and learn in a safe and accessible environment. Our project throws up logistical challenges due to it's meanwhile status and the physical and construction based work corporate volunteers give to the project has become an integral part of the process of relocating then recreating a new space and then in the ongoing care of that new space."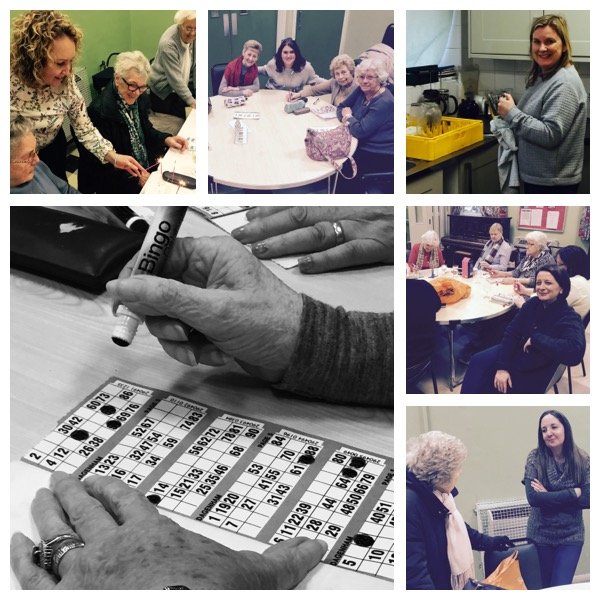 By supporting community gardens and green spaces, corporate volunteers positively impact the people who benefit from these spaces.
Other risk factors are those of isolation, loneliness and bereavement, things that heavily affect our community's older generations. Grass root organisations that are specific to the needs of older people, like East London Pensioners Group (ELPG), have regular social activities. ELPG hold a mid-week lunch and tea party for elderly people in the local area. Volunteers help spruce up the community hall, serve a special meal and provide a well-enjoyed game of BINGO for up to 30 pensioners in Tower Hamlets. Carol Abbott from ELPG explains:
"The tea party gives the pensioners a reason to come out of their houses and talk to people. Most of the pensioners would otherwise be at home without any contact for up to a week. Volunteer groups help make sure we can put on a special tea party and maintain the club. Without ELBA this would not have been possible."
These events and clubs help tackle isolation and provide an opportunity to form relationships, gain social support and make friends with those that are likely to feel lonely and have gone through bereavement.
Connection and building stronger communities are strong resilience factors in mental health. There are many community centres across east London that provide an area for people to come together and take part in activities with all ages, nationalities and abilities. The Royal Docks Activity Centre in Newham is a prime example: volunteers take part in activities including arts and crafts, gardening, sports and exercise sessions for all generations.
ELBA also have an upcoming Team Challenge for Mental Health Awareness Week with the Forget Me Not Project, a weekly memory café that offers elders (some with dementia or Alzheimer's) a place for people to socialise, take part in activities and receive a hot, nutritious meal. It's mission is to to be a leader in providing mind stimulating activities, peer support & assistance wherever possible, in a warm and welcoming environment. These all provide a good opportunity to improve individual attributes linked to mental health such as communication, confidence, physical health and fitness. Volunteer support is greatly appreciated as interacting with new face helps members build their confidence and also reduces the feeling of isolation.
Team challenges not only support community organisations and the community but the volunteers themselves better well being for everyone involved! If you are interested in volunteering please get in touch and find out how you can help by emailing us at challengeelba@elba-1.org.uk.