Education Team celebrates National Careers Week & International Women's Day
National Careers Week (2nd-6th March) and International Women's Day on 8th March, both marked busy and exciting schedules for the Education team's events in March. The week is a celebration of careers guidance and free resources in education across the UK. The aim is to provide a focus for careers guidance activity at an important stage in the academic calendar, to help support young people leaving education.
Our range of activities with schools, colleges and universities include career talks, carousels and mentoring; interventions which help young people at pivotal stages in their lives and better inform their career journey.
In line with Careers Week, we launched our Sixth Form mentoring programme with Linklaters/Clapton Girls' Academy and Schroders/Mossbourne Community Academy.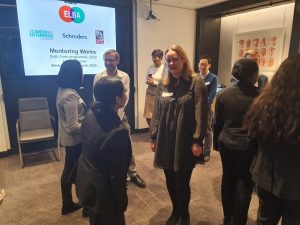 Both schools have long standing relationships on the programme; 10 years and 13 years respectively, demonstrating the commitment and value to both to our companies and most importantly, our beneficiaries – the students.
Both schools are based in Hackney and, despite development in the borough and improved academic attainment in the schools, Hackney still faces social and economic challenges. Mentoring provides broad support with increasing aspiration, employability skills and knowledge of career options and future pathways and matching a student to an adult who takes an interest in their progress gives them considerable motivation and opportunities.
A number of the students on the current Sixth Form cohort have also participated on the Year 10 programme, a testament to the impact of the programme.
A number of career talks took place at our schools in Newham and Barking & Dagenham, where ELBA's volunteers from Standard Chartered, Accenture and Barclays held presentations about their career and companies, to introduce students to new pathways. Research shows that students' participation in career talks with volunteers from the world of work can change pupils' attitudes to education, influence their subject choices, motivate them to study harder, and support an improvement in academic attainment according to Education and Employers.
In light of International Women's Day 2020, the ELBA Education team ran a Careers Junction on the 9th March with Sarah Bonnell School to inspire Year 9 pupils' aspirations for the future. The theme for this year was #EachforEqual and how 'an equal world is an enabled world, actively choose to challenge stereotypes, fight bias, broaden perceptions, improve situations and celebrate women's achievements'.
"I learned that you can be anything you want whenever you want. The only limits that are set for you are made by you" – Year 9 students, Sarah Bonnell School.
Female professionals from 11 companies across eight industries such as engineering, finance, health, law, digital marketing to name a few, delivered a series of workshops to students, giving them an insight into a variety of new career options and inspiring them by sharing their own journeys into working life.
You can view a video round-up of the day on the ELBA Instagram page here: International Women's Day 2020 at Sarah Bonnell School
On the 4th March, we launched The 4th Dragons' Den programme with KPMG for a group of Year 9 students from Sarah Bonnell School. Over the next 3 months, they will be meeting with their mentors to come up with a business idea to pitch at a Dragons' Den finale.
The groups will learn about building a team, idea generation, branding, competitor analysis and budgeting as well as how to pitch your idea. This will enable the students to develop important employability skills.
We are immensely proud of the work we do to support our beneficiaries and in light of COVID-19, we are taking steps to offer alternatives to continue our support:
– Mentoring Works: Face-to-face sessions cannot continue but the team is issuing guidelines for how mentors and mentees can continue their communications in the interim, via phone and email.
– Education Works: Activities will continue in alternative formats e.g. video mock interviews, remote CV reviews, career talks/webinars
Thanks in advance for your help and flexibility with continuing to support us and all our partners at this time. We look forward to continuing to work with you and find impactful ways to help young people to achieve more and dream big!
If you are interested in ELBA's Education/Mentoring Programmes, please contact: educationworks@elba-1.org.uk.