Building confidence and skills in a time of uncertainty
Written by Christine Guldborg Christensen, Project Manager – The EDGE Project,  ELBA Employability & Skills Team
The Covid pandemic has left a mark on all of us and not only exposed us to new personal and societal challenges, but also exacerbated existing challenges like social inequality and unemployment. With a weakened economy and tightened labour market one of the groups who especially have been affected by COVID-19 is young people aged 16-24 years. According to the Quarterly Labour Force Survey from May 2021, the employment rate of young people declined the most during the beginning of the pandemic compared with other age groups (Office for National Statistics).
Due to the significant increase in youth unemployment as a result of COVID19, which is estimated to be 15% in the boroughs ELBA operates, ELBA launched the EDGE project earlier this year with funding and support from ING, our long standing business partner. The programme is focusing on supporting newly unemployed young people 18-24 from diverse backgrounds with a paid work placement, employability and digital skills training to give them the skills, confidence and competitive edge to access new job opportunities in a challenging labour market. The EDGE project also aims to encourage companies to diversify and widen their talent pool to promote social mobility. The local talent of today can be the future leaders of tomorrow.
The benefits of joining the EDGE programme and gaining work experience
In times of high unemployment, confidence erodes very quickly especially for young people with little work experience and the opportunity to get a work placement have made a real difference. One of the candidates who has benefitted from the EDGE programme is Ibrahim Duad who is a recent graduate in Computer Science.
"Aiming high is the skill I developed the most because before I started the EDGE programme I didn't think I would have enough confidence or belief that I could apply for places like Canary Wharf Group (CWG) and work in corporate environments or get a job like this, so I am very appreciative of the opportunity."
He joined the EDGE programme because he knew the importance of having work experience to access job opportunities.
"It is not enough to be a graduate, you also need to have the experience to land a good job opportunity."
The placement within the IT department in Canary Wharf Group was a great opportunity for him to get experience in a prestigious company in one of Europe's largest Financial Business Districts, a place he only dreamed of when passing Canary Wharf's buildings on the DLR on his way to his University in Greenwich. Little did he know that after his 4 week placement he would be closer to the career path he wanted to pursue as he got the chance to work on Sharepoint which gave him a career role in mind for the first time.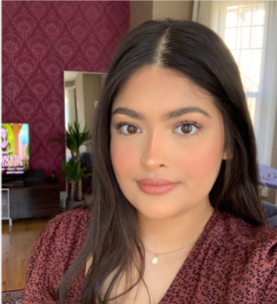 Another EDGE candidate, Zeba Lunat studying BA Hons Sociology, was experiencing a lot of uncertainty and setbacks after finishing university and becoming unemployed, but when she got the opportunity to apply for the EDGE work placement and was offered a placement with ISS UK & Ireland on their Corporate Responsibility team, things started to change for her. Before her placement she had a lot of self doubt and expressed that it was difficult for her to see what she could contribute with. On her work placement she was met with responsibility on various projects such as the Afghanistan Aid Box to support Afghan refugees via Care4Calais, and the JointForces@ISS veteran project supporting armed forces veterans. She received continuous support and encouragement from her team who helped her open up, build her confidence and self belief and taught her important skills such as teamwork, creativity and problem-solving.
Ongoing support and building connection with professionals
The wrap-around support including mentoring and call back training days on Microsoft Office suite and CV & LinkedIn was an eye opener for the two EDGE candidates; and the opportunity to network with different professionals such as their mentor and other corporate volunteers during training sessions also made a difference to them:
"The biggest take away is the ongoing support (…) It's not only a temporary thing where you come in and your support finishes after the internship. You can still network and talk to the professionals after. I did not realise that connection would be long term and more permanent."
"Especially the CV support. Having a professional look over my CV and telling me where to improve from an employer's point of view is something you don't get given often. Also, the Microsoft training has been great in showing what my current level is and where to improve to become more advanced."
– Zeba
Mentoring has also been an important part of the programme to help support the young people during and after their placement. One of the ING mentors describes his motivation for joining the EDGE mentoring:
"Based on my professional and personal background, I jumped at the opportunity to be a mentor on the ELBA EDGE mentoring programme. Coming from a similar background I felt I could relate and share my experiences to help guide these young adults on challenges they may face, particularly in the corporate world. The opportunities and my experiences have instilled self-belief and I am keen to show these young people the power of self-belief in all aspects of their lives."
– ING mentor
Two months have passed since Zeba and Ibrahim started their placements and they are still working for both Canary Wharf Group and ISS UK, after being offered extensions due to their hard work and resilience, which impressed their line managers and teams. This is not only a great testament to Zeba and Ibrahim, but also to the impact of work placements. Despite any doubts they might have had about themselves, their confidence and abilities, the 4-week placement and training with the EDGE project have opened up new doors in a time of great uncertainty.
"Graduates from a pandemic are just as capable as previous years, especially since we had limited/no resources given, went through online teaching, lack of support from lecturers that would usually be provided pre-COVID. This makes us more capable than others and more competent and skilled in comparison to others."