BoardBuilders: Strengthening organisational governance by placing business professionals on boards
On Thursday 27th February, ELBA's Connect Team will host their ninth BoardMatch event, with Accenture taking their turn as hosts. BoardMatch9 will bring together fifteen amazing community partners and around 100 prospective board members from across ELBA's member companies for an evening of trustee introductions.
In preparation for BoardMatch9, we took the opportunity to catch up with both a trustee placed through ELBA's BoardMatch programme, and a community partner that has found trustees at BoardMatch events.
---
Trustee case study: Lorna Taylor
In September 2018 Lorna Taylor, CSR Manager at Societe Generale, joined the board of local charity, Hackney Quest. We caught up with her to find out about her experience of becoming a trustee.
What originally motivated you to want to be a trustee?
The primary reason was for professional development. I'm generally very good at organisation and detail, but not great at bigger picture thinking. I'm interested in governance, and wanted to develop the bigger picture skills of looking at an organisation as a whole. I've almost come to the end of my term as a school governor in Hackney, and still have a keen interest in education and young people, so Hackney Quest seemed like a great fit. I also used to live in Hackney, and love the borough – both its opportunities and challenges – and due to this and the nature of my work I feel I potentially have a different relationship with the borough than the rest of my colleagues and wanted to stay in touch with the local community.
How did the opportunity come about? How did ELBA support with getting the role?
I found out about the opportunity through ELBA's BoardMatch event which was advertised at Societe Generale. I met lots of organisations I wanted to volunteer at, but the enthusiasm of Hackney Quest was infectious, they are so passionate about their work! Having met the CEO and Chair of Trustees there were clear alignments in our personalities and the work that they do. ELBA helped prepare me for the interviews and set the expectations for the interviews. In total, 4 new trustees for Hackney Quest have come through ELBA! I'm currently speaking to ELBA about organising trustee training, events, alumni networking, as I think it's a great programme with lots of potential to further support new trustees.
What has your experience been like so far? What have you achieved? 
It's coming up to a year in my trustee role in September. Hackney Quest is a small organisation that reaches so far. My biggest learning curve has been getting my head around everything they do, it's been such a whirlwind and I have no idea how they manage everything! Recently I've taken on the role of secretary, supporting the whole board – it's given me greater insight into the work they do. I love working with other trustees on collaborative projects, and getting a bit more hands on with others who are like-minded and share a similar passion. I've had the chance to share skills and expertise from my business background – it has been eye-opening to learn that while there is so much overlap between corporates and charities there are also some stark differences and what might work really well in a corporate does not translate to a charity setting. My background in fundraising and CSR helped with the crowdfunding campaign they ran for their 30th birthday last year. I've also been getting really stuck in by running the Hackney half-marathon for the charity earlier this year – along with a couple of other Trustees!
What have you learnt about the organisation, Hackney and the issues that they are facing?
It has helped to remember the challenges that teenagers and young people face, such as with friendships, struggles at home and at school. We forget about the pressure of exams, politics of school relationships, finding things to do, and the struggles for parents to entertain their kids with healthy, safe activities. This is becoming more and more important in London and in Hackney with knife crime and serious youth violence constantly in the news, services like Hackney Quest are absolute necessities. Youth voice in particular is super important to our organisation and our area – we're looking to have more of a youth voice on the trustee board so that we know our activity is tailored in the right way. Having a safe space that is open to all ages is so important – Hackney is really lucky to have Hackney Quest!
What impact is the role having on you and your personal development?
I have already learnt a lot. I now better understand the nuances of how different parts of an organisation interact with each other; how HR, budgeting etc might play out in a small organisation, especially as Hackney Quest don't have all these roles or huge departments. I've learnt a lot from fellow trustees – one is an expert on comms and digital marketing and I've learnt how to consider and position storytelling and messaging alongside great fundraising strategies when it comes to a small organisation. It's been really good for my career, particularly helping to boost my soft skills by interacting with different people and different skills/projects – this has also helped me to become more adaptable and flexible in my day job.
Why should staff in corporate companies volunteer? What are the benefits?
Being a trustee of a community organisation can help with professional development, networking, and personal wellbeing – the feel good factor that comes from giving back. I really feel like I'm able to help and make a difference. I'm learning a lot, and through that I'm also raising awareness, which is so important to the charity sector. It's a great opportunity to challenge and change your perceptions of communities, grow your outlook and meet and work with people you wouldn't meet otherwise. It's really refreshing and supports your mental wellbeing, as well as keeping you on your toes!
---
Case Study: Forum @ Greenwich
Forum @ Greenwich have attended two of ELBA's BoardMatch events and have recruited three new trustees as a result. We caught up with CEO, Jill Andrews, to hear about what Forum @ Greenwich has gained from the programme.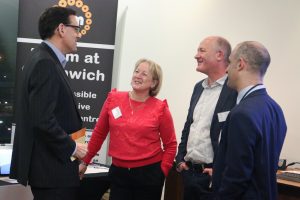 How did you find the BoardMatch process?
ELBA's BoardMatch differs wildly from other trustee recruitment processes. I have found the BoardMatch process extremely easy to engage with. It is very well managed, and structured in such a way that you do not feel alone, there is guidance all the way through the process from the ELBA team. I particularly like the training and support from the corporate teams to help with pitching your organisation as this helps you to get the key points across about your organisation to prospective candidates.
Tell us about the trustees that you have recruited?
So far we have recruited 3 trustees, all are still with the charity 3 years later. They have bought a variety of skills from general business acumen, financial and legal support and guidance. It is important that your trustee board get on and you have a mixture of skill sets. The 3 trustees we recruited complimented the board's existing trustees who had various skills including, Voluntary Sector knowledge, NHS, I.T and Architecture. All of which are very useful when maintaining two very large buildings that cater for people with disabilities.
What has your organisation gained from taking part in BoardMatch? 
Personally speaking as a CEO, the charity has gained a wealth of experience from highly skilled individuals who offer their spare time to benefit and support the charity, myself and my team. They are not afraid to get their hands dirty and join in with Community Fun Days. The board is definitely stronger as a result of bringing together like minded people who want to put something back into their community.
What advice would you give to another charity that is interested in taking part?
My one tip would be "Do your Homework". Understand what skills your organisation will benefit from to drive forward your business plan. I would encourage anyone who is looking to strengthen their board to seriously look at signing up with ELBA. There aren't many places you can go and showcase your organisation to a room full of highly skilled people who are willing to give up their time to support the voluntary sector.
---
For more information about ELBA's BoardBuilders programme, contact Jonathan.Tait@elba-1.org.uk.