Almost 10,000 children benefited from 2019's Toy Appeal!
The frenzy surrounding Christmas and the festive season was almost a month ago. Many amongst us have gone back to our regular daily lives; experiences of festive music, Christmas trees, delicious food and the stronger sense of community has started to slowly fade away. Christmas presents, however, being one of the only tangible things that last after Christmas, often let us revisit this time of the year and the memories associated with it. For almost 10,000 children in east London and Islington, if it was not for ELBA's 2019 Toy Appeal and its donors, they would not have been able to hold onto something that would remind them of the Christmas spirit.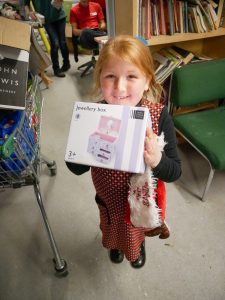 With 28% of children living in poverty in Islington and over 50% in some boroughs within east London, many children in these areas are excluded from the joy that many people experience during the festive period. The ELBA Toy Appeal aims to reach as many children as possible giving them a small gift to bring a bit of happiness and for parents, take the pressure off if they are struggling financially and are worrying about providing a toy for their children.
The 2019 Toy Appeal supported more community organisations than ever before with 57 of ELBA's community organisations receiving toys. All these organisations work with families and children who are experiencing hardship for different reasons such as working with families that are fleeing domestic violence, living in emergency temporary accommodation, refugees, and children with severe learning needs and medical disabilities.
A toy may seem small and insignificant, but the impact it can have on a child is profound. For families whose worlds are upside down, the gift of a toy will create the feeling of inclusion which is often the only thing children wish for. A parent of a child that has received a toy through Harmony Nursery at Account3 highlighted this by saying:
"This has put tears in my eyes. I don't celebrate Christmas as this is not my religion. However, all of my children's friends celebrate and get a gift. This means this year my child has a gift to show his friend and am thankful for the charity that has given the toys to you."
In addition to this, toys not only impact the families, but also provide the ability for community organisations to create an impact, Shpresa Programme, a charity focusing around Albanian families says:
"The toy appeal has a great impact for us as an organisation. We work with vulnerable families, children and young people that face lots for issues, poverty and deprivation. It is very important that via the toy appeal we can show to them that they matter, they are listened to and there are people that care."
The Toy Appeal would not have been possible without the generosity of employees from 59 companies including long term contributors UBS and HSBC and new contributors such as NatWest market, Queen Mary's university and WH Smith. These companies cover a range of industries from insurance to banking. Their generosity meant that 10 thousand toys were given out to children in 2019.
With the large numbers of toys, ELBA could not have delivered the Toy appeal without the support of all the volunteers who took part in making this happen. Over the course of 2 weeks, volunteers came to our grotto to be Santa's helpers by taking deliveries, sorting toys and getting them ready for distribution. Some volunteers had fun outside the grotto part in a toy dash; taking donated vouchers to Westfield and buying as many toys as possible!
While it's easy to celebrate the success and scale of the appeal, the sad reality is that there were many children who may not have otherwise received a gift at Christmas, if it wasn't for the Toy Appeal. With more than 18,875 children living below the poverty line in Tower Hamlets alone, we want to make next year's Toy Appeal even bigger to try to support even more children and families in this small but significant way. To be a part of this and make a lasting contribution, keep ELBA in mind for the next Toy Appeal in 2020!