ELBA and our member companies keep busy during lockdown
Written by Sheetal Mistry, ELBA Project Manager
ELBA has been working hard to ensure we are meeting the growing community need, and being more creative with how we engage volunteers from home to continue providing the practical support and expertise that is required. We'd like to extend a huge thank you to all our member companies and supporters at this time for all their messages of support, active engagement in our forums and discussions, and most importantly their flexible and rapid volunteer response to our urgent requests from the community. It is a strange and difficult time for all, but it has been amazing to see so much positivity and so many offers of help with such a quick turnaround. 
For Mentoring Works, our flagship student mentoring programme, Linklaters has facilitated a series of virtual collaboration meetings with their community partners, acting as a forum to provide updates on how current programmes are running during this challenging time and to share ideas and best practice. Hannah Lashley, Community Education Consultant at Linklaters, shared her thoughts:
"Within the first weeks of our office being closed due to COVID-19, ELBA was extremely proactive in turning this face-to-face scheme into a remote programme for the very first time. I would like to thank ELBA's Sian and Merossa, who have been in regular contact with Linklaters mentors, school contacts, students and their families during this time. They have provided clear support, guidance and resources to ensure that students can continue to be mentored and build aspirations from home."
Marina Antonova, a Linklaters mentor who has been mentoring her student remotely, added:
"I think mentoring is especially important at this time as mentees have less contact with the outside world and may feel bored or find it more difficult to motivate themselves."
MUFG and the BIG Alliance have been working hard to progress this year's mentoring programme as a result of the COVID-19 pandemic, with MUFG citing the success of this: "The cross over from physical to virtual sessions through telephone calls was very smooth with the team and mentors being thoroughly informed at every step. The weekly resource packs are also very useful as they provide mentors with a structure and set topics to cover each week, taking off the pressure to create ideas." 
Also supporting young people, a group of volunteers from Accenture took their TAG (Technology Apprentice & Graduate) Roadshow online and delivered two engaging and insightful online sessions for students from Newham Collegiate Sixth Form. The focus was to 'Empower, Educate and Encourage students' – empower students from BAME backgrounds, educate about Apprenticeship, Graduate and Internship schemes at Accenture, and encourage students to consider what their passions are. One student made the following comment about the session: "I've learnt a lot about the advantages (and disadvantages) of apprenticeships and can now seriously consider it as a future pathway". It's great that during these times, our volunteers are still able to inspire and inform students. This wouldn't have been possible without the support from committed Newham Collegiate Sixth Form staff and Accenture volunteers.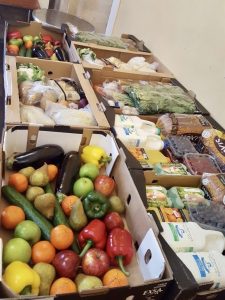 ELBA is also running a Virtual Food Drive to support community organisations that are providing food and meals for vulnerable people during the coronavirus crisis. We're working with wholesalers to do bulk orders for community organisations and have so far supported: Eat or Heat food bank, Hope Family Trust (Barking Food Bank), St Luke's Over 50s, Humdum, Children With Voices and The Renewal Programme. Employees from our member companies have been donating on our Just Giving page (justgiving.com/campaign/elbavirtualfooddrive) and we've had big support so far from RSA, Liberty, Accenture and Bupa, with other companies coming on board too.
Companies like CH&Co and Fooditude are now using their expertise and capacity to provide meals and food supplies to support the vulnerable and local charities, and to support local food supply chains. Fooditude have set up a GoFundMe page to raise money to be able to supply local charities and organisations – gofundme.com/f/fooditude-covid19-emergency-response
And, long stay accommodation provider, The Collective, have been using their rooms for NHS staff and other key workers – an offer they would be happy to extend to key workers of other ELBA members if that is of interest (contact Olga Mnahoncakova  07512 194 398 omnahoncakova@thecollective.com for details of their self contained units and rooms).
ELBA member and partner ISS facilities services, has been working hard on the new Nightingale Hospital. ISS has been delivering the cleaning, portering and waste management at the 4,000-bed hospital based at the ExCeL conference centre in East London.
We're always looking for more innovative ways in which our member companies can get involved at this trying time – if you have any ideas, get in touch with us!