ELBA and members take to east London's parks for World Environment Day
Written by Reginald Adodoadji, Communications and PR Coordinator at ELBA
On 5th June, hundreds of employees from ELBA's member companies took to the east London parks to support World Environment Day. The annual day is to raise awareness and rouse action for the preservation and safeguarding of our environment. ELBA marked the day by encouraging as many people as possible to volunteer at the east London parks. Parks play a vital role in providing a green space full of biodiversity and habitat for wildlife in the city, as well as promoting environmental preservation and sustainability to local residents through their outreach programmes.
The parks have been a key community partner of ELBA's and as this year is ELBA's 30th birthday, the event was also used to celebrate this partnership. Each year, Challenge:ELBA deploys thousands of business volunteers and over the years, these volunteers have made a big contribution to the upkeep of these open spaces in east London. With the large manpower, teams of volunteers are able to complete jobs that the parks would not have the resources for.
On World Environment Day, volunteers from HSBC, Accenture, Natwest Markets, Thames Water and State Street supported Clissold Park in Hackney, Victoria Park in Tower Hamlets and Leyton Jubilee Park in Waltham Forest. At Mile End Park, nine companies from the Lloyd's market came together to build planters and a growing area that will be used by local children, many of whom don't have access to a garden.
The Mile End Park event also commemorated 30 years of the Lloyd's community programme, which aims to help strengthen community groups in London, and help individuals achieve their potential through support from the Lloyd's market. ELBA has a long-standing partnership with the programme, which has been able to support community groups across London by providing hundreds of thousands of volunteers every year.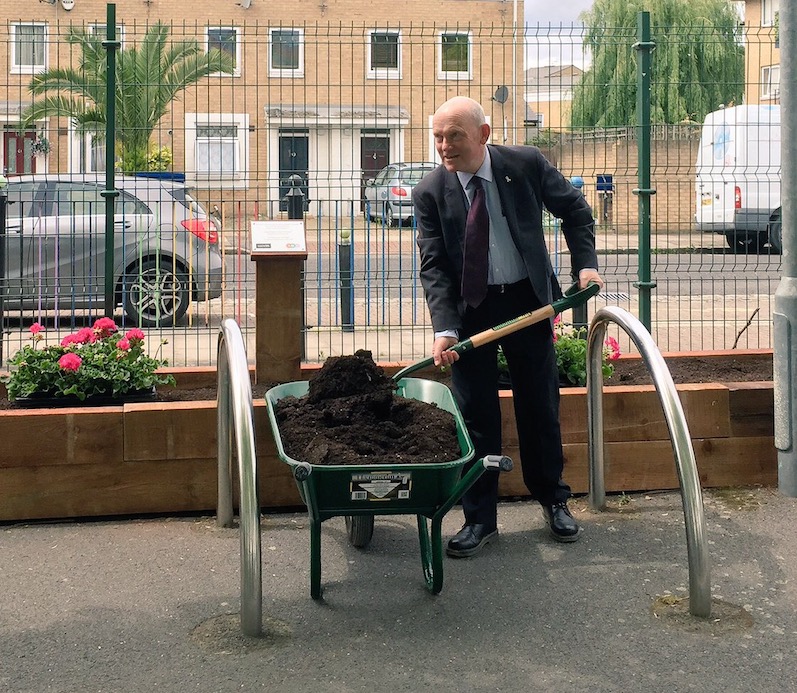 Tower Hamlets Mayor John Biggs came along to Mile End Park to deposit a spade of soil into one of the newly built planters. He was in good humour on such a positive day and was very impressed with the work of the volunteers. He took a genuine interest in the work that had taken place and said:
"Parks are important for our local residents. They are places for us all to rest, relax, and have fun, and we all need to do our bit to make sure they are clean, attractive and safe environments. Very many thanks go to all the volunteers who have supported our parks over the years, working alongside our own staff and contractors to keep our open spaces in the best possible shape."
Over the years, volunteers have helped transform the east London parks and have created meadow land for wild flowers and insects, built habitats for endangered species of animals, created forest schools for children to learn about the environment, removed invasive species of plants to promote biodiversity and built growing areas for people to grow their own produce, all promoting environmental preservation and sustainability. ELBA chief executive, Ian Parkes said:
"This day is an example of the good that businesses can do in the local community. Over the last 30 years, ELBA has helped over 200,000 business volunteers to give back to the residents, young people, community organisations and places of east London. It's a marvellous effort from everyone concerned and shows the positive impact that can be made with everyone pulling together."
Indeed, it does. Only when a community unites and pulls together can it truly show its strength. One volunteer can only help so much, but hundreds of thousands of volunteers can make a huge difference, of which its importance simply cannot be understated.