RSA volunteers break down the barriers to work for ex-offenders
Words by Joey Carey, ELBA Community Works Project Manager

In my role at ELBA I am lucky enough to spend my days supporting the local community and the positive effects on beneficiaries are clear. But some activities stand out more than others. For example, we recently delivered an Employability workshop for local job seeking ex-offenders, who are enrolled with our community partner, Hope Family Centre via its programme: Beyond the Bars: Pathway to Hope.
ELBA regularly works with Hope Family Centre, most commonly providing it with teams of corporate volunteers to assist in its food and clothes banks. These activities have proven to be a big hit with volunteers and the community alike. However, a standout event must be the recent Employability workshop with RSA Insurance Group, a business partner of ELBA, who participated in employability training activities last year but this year was keen to make an even greater impact.
After several weeks of collaboration between Jennie Colville, RSA's corporate responsibility manager, and Hope Family Centre manager, Funmi Ikele, a new module for the programme was designed. The aim of the workshop was for volunteers to provide one-to-one coaching for the participants helping them to understand their current life roles and goals more clearly. Through open ended questions, volunteers would support participants to understand the barriers they face when trying to gain employment and assist them in setting new goals and actions plans.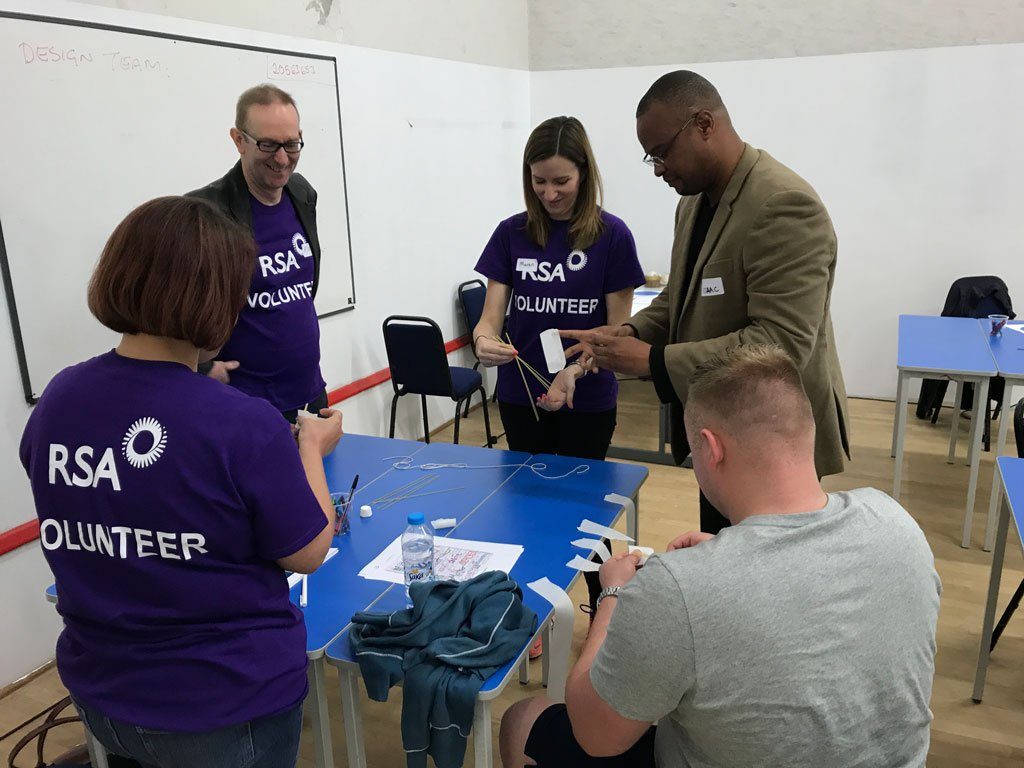 The workshop was a resounding success and achieved the aim it set out to deliver. It also included an interactive ice-breaker challenge which involved volunteers and participants working together to make the highest freestanding tower from spaghetti! The workshop concluded with a Q & A panel were participants asked RSA, and ELBA staff, questions about the challenges they have faced in their lives and careers, and how they overcame the barriers.
I feel really privileged to have supported such a fantastic programme and workshop. The RSA volunteers were enthusiastic and committed to delivering the workshop aims with the participants eager to change their lives and move into employment giving them a fresh start at life. Thank you to Jennie Colville for all of her support in getting the workshop off the ground and for preparing the volunteers before the day.
A massive thank you to Funmi Ikele from Hope Family Centre, the driving force behind the workshop design and delivery. Funmi's refusal to see her participants fail, and her determination to see them succeed, I'm sure will keep us all inspired for a long time to come.
Jennie Colville, RSA Group Responsibility Manager said:
"Addressing social issues, such as unemployment, in our local communities is a key focus of our Corporate Responsibility strategy and it was an honour to work with Funmi and the Hope Family Centre again to help them deliver the Beyond the Bars Programme. Initially slightly hesitant about the workshop, our volunteers rose to the challenge and found the day so rewarding leaving the centre with a feeling that they had made a small difference to some amazing individuals. Thank you to ELBA, Hope Family Centre and our volunteers for yet another fantastic experience"
Funmi Ikele, Manager for Hope Family Centre said:
"Resounding success! Initially, I was a little apprehensive that RSA might find the delivery too intensive. I also worried about the bonding dynamics between two groups of people from very far removed spheres of life; it'd be pretty awkward to say the least, spending the day together if the chemistry wasn't right! But RSA rose to the challenge with such enthusiasm and drive that my 'boys' picked up on and both hit off almost from the start; even the most reticent came out of his shell. Feedback from the boys has been amazing!"
Abi Micallef, ELBA project manager said:
"It was great to see the rapport being built between the volunteers and job seekers in such a short space of time. The energy in the room was really good and it was clear something quite special was taking place; for all those taking part. The job seekers were really engaged and you could see their hunger; keen to get as much out of the session as they could to help take them forward."
Cordel Fraser, ELBA project manager said:
"Being a part of the Q&A panel and able to talk to the group about ways to view their past experience in a positive light going forward was very rewarding. They all have skills sets to achieve and motivate others, and it was great to see this being developed throughout the day."